As summer starts to wind down and the nights get cooler, colorful layers and mix-and-match patterns on your bed create cozy cottage charm!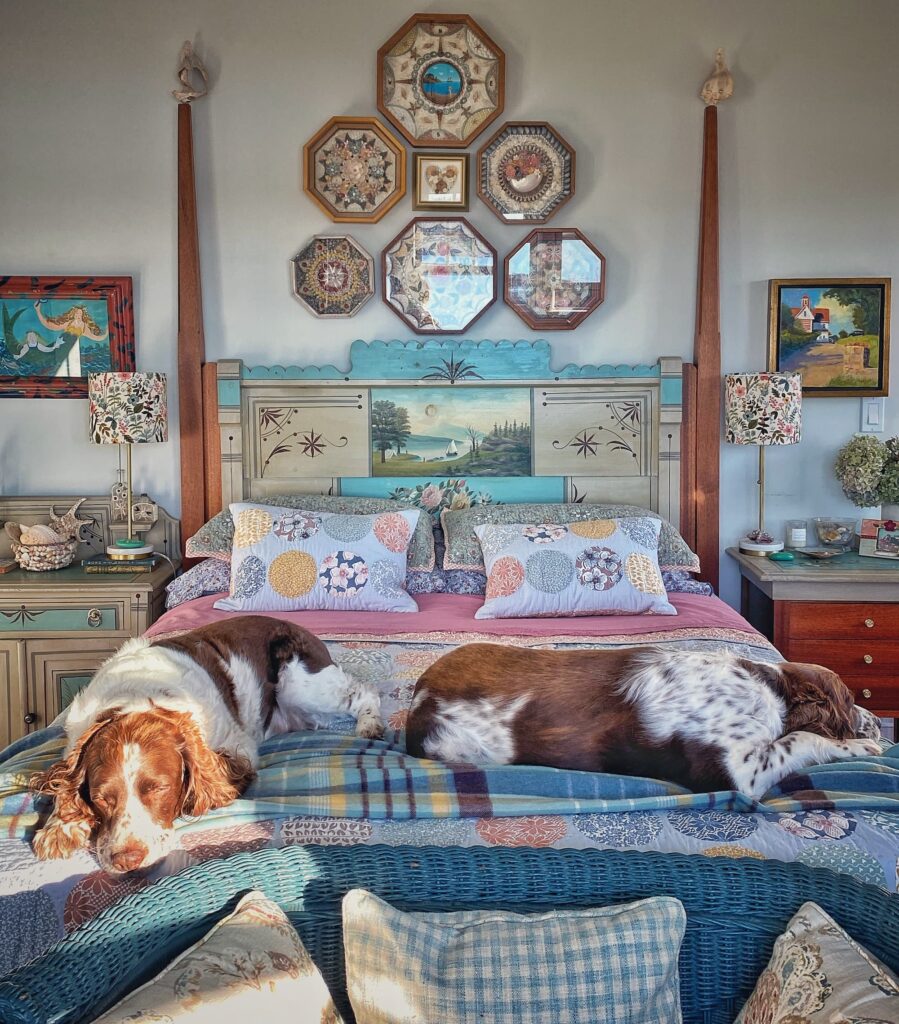 I like color. And pattern. They just make me happy! And the bed is a great place to play with both of these. Don't get me wrong — those crisp all-white beds are beautiful. But, well, white bedding doesn't really work with our "lifestyle" (ahem, Maddie and Cisco….).
Summer….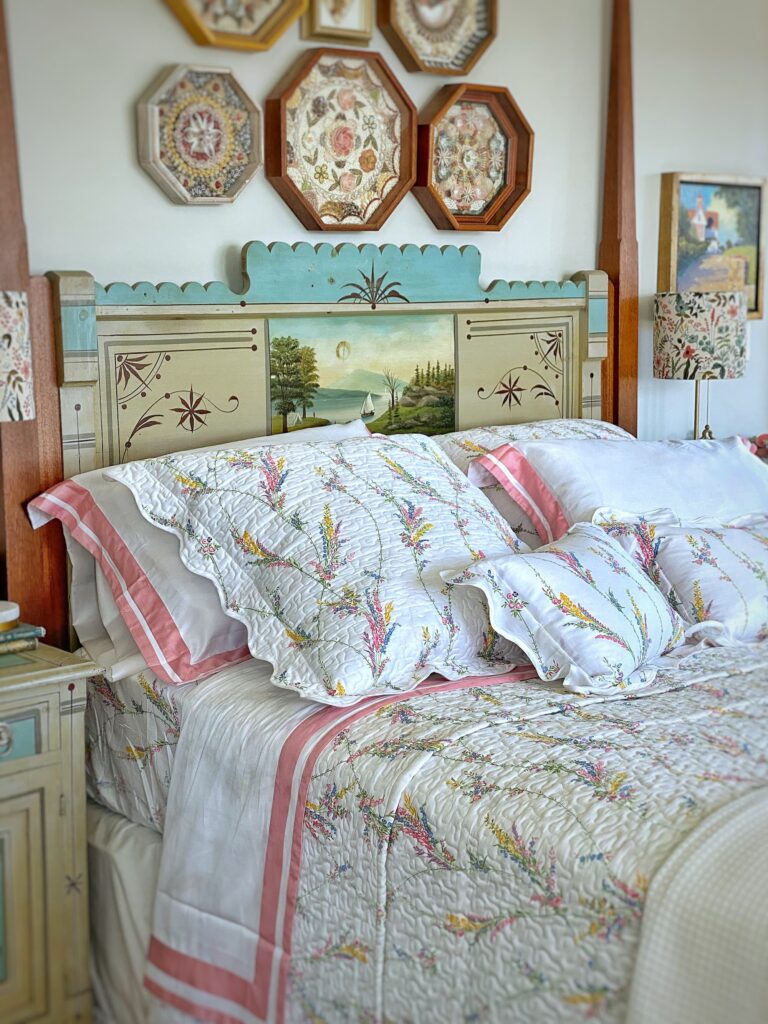 I do go lighter and more simple in the summer. This classic floral bedding from Schweitzer Linen is so fresh and beautiful! As we start to transition from summer to fall, though, I am craving cozy layers of color, pattern, and texture.
…. Into Fall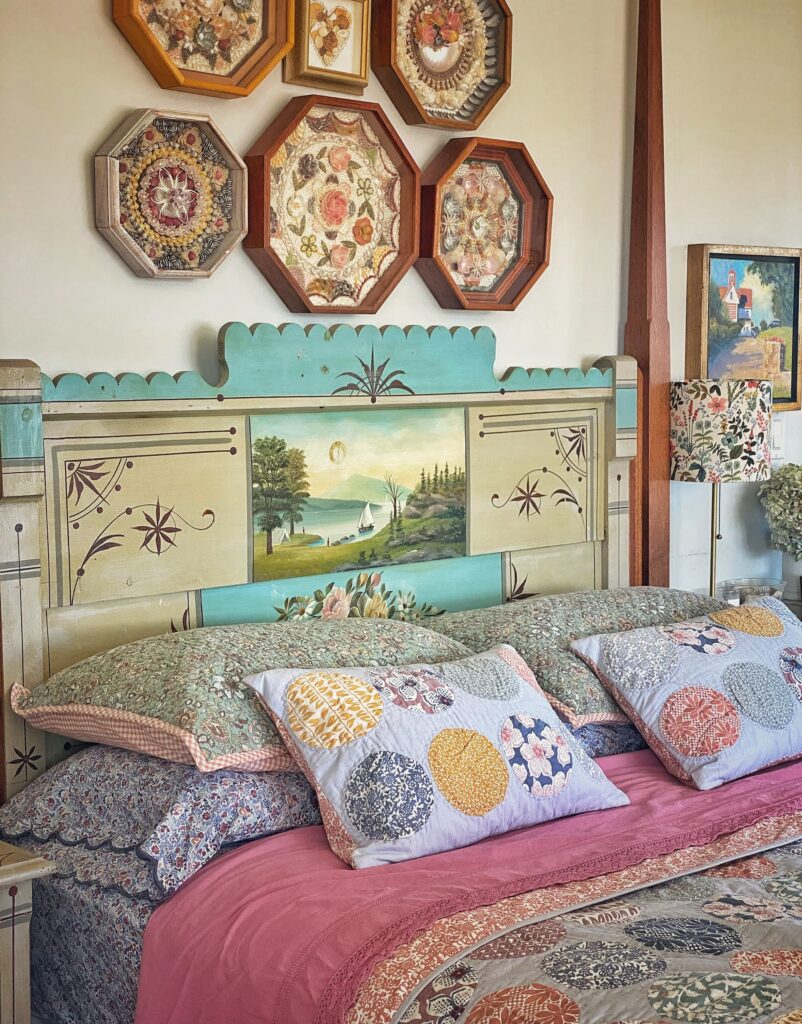 These mix and match pieces from Garnet Hill are all that and more! I have shopped at Garnet Hill for years and love the variety and quality of their bedding. The whale sheets that I have in the guest cottage are some of my favorites! Garnet Hill is a great source for both patterned and solid bedding!
A Riot of Pattern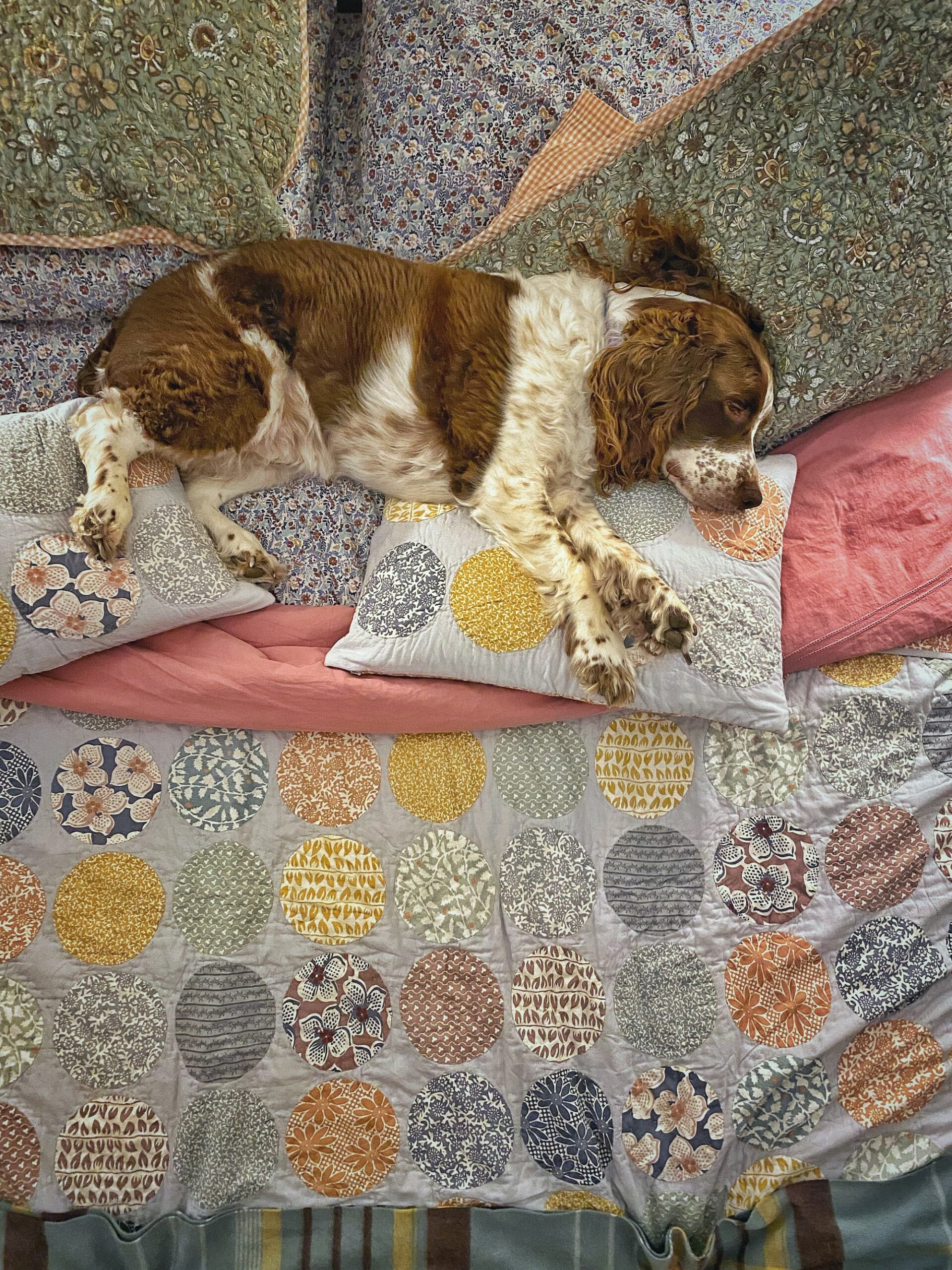 I went all-out with a mix of patterns this year. Let me explain the method to my madness! Since some of you might think this is indeed madness, I will also tell you how you can mix patterns in a more, er, restrained way…. Don't you love how Maddie complements all the patterns?!
Start With One Piece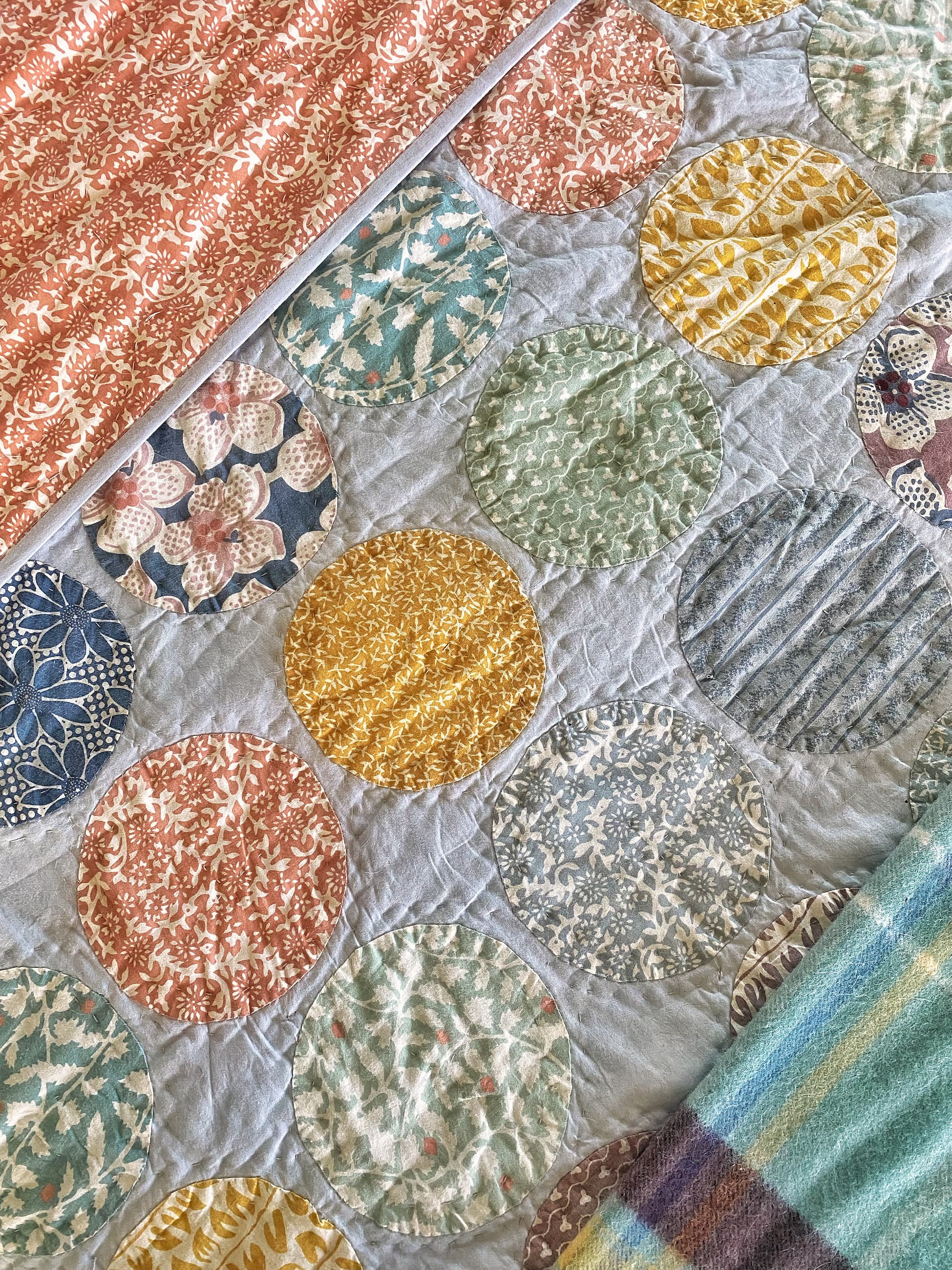 I started with this fun quilt. I have had my eye on it in the Garnet Hill catalog for a while now. The appliquéd circles are a fresh take on a traditional quilt pattern. Of course I have always loved quilts, with their tradition of mixing different patterns. They are a great jumping off point for choosing coordinating colors — or even more patterns! There is nothing more cottage than a cozy quilt!
Choosing Colors and Patterns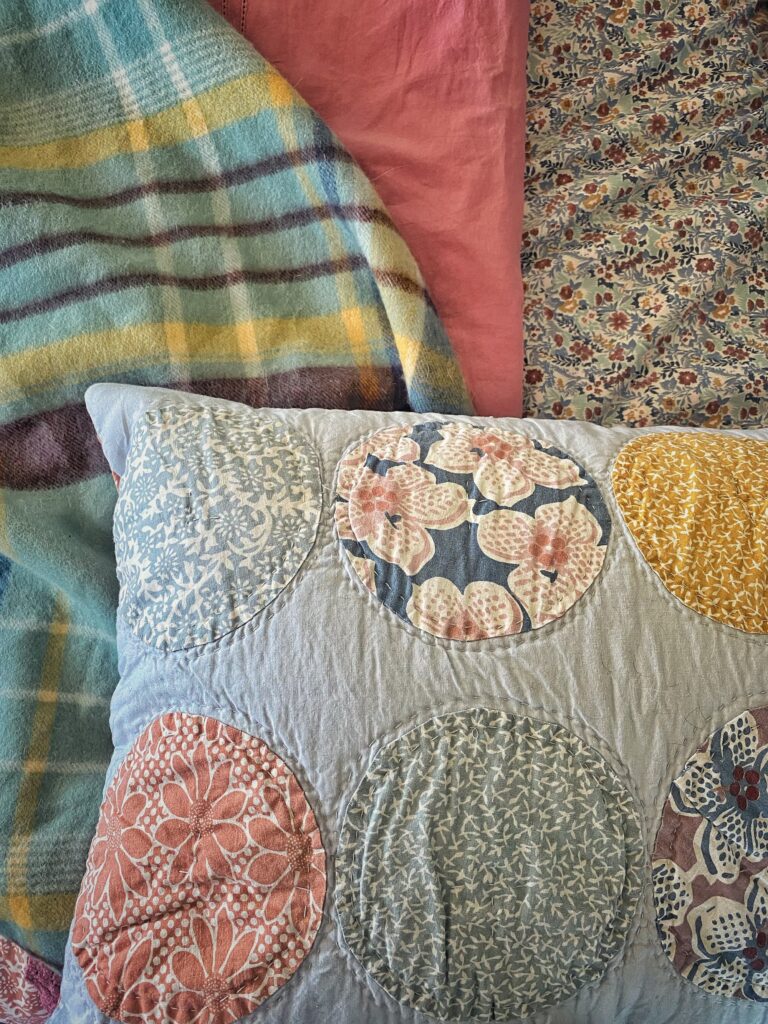 Once I had selected the quilt, I chose other pieces that picked up the colors of the quilt. The solid top sheet picks up on the pinks. The floral pillow cases and bottom sheet relate to the blues. The quilted sham and plaid throw coordinate with the greens and golds.
When mixing patterns, scale is key. You want to have a combination of small, medium, and large prints. In this case the pillowcases/bottom sheet are a small print. The quilted shams are a medium size print. And the plaid throw is a large print. The quilt reads as both a large print (the appliquéd circles) and small/medium print (the individual fabrics of the circles).
I know this is an extreme case of pattern mixing. And I am sure there are those of you who think there is no "match" in my mix and match! I was going for a sort of mismatched collected-over-time cottage look here.
If you wanted to tone this down, you could do a matching quilt and shams with sheets in one pattern that echoes one of the prints in the quilt. A classic formula for pattern mixing is a floral or unique print with one or more geometrics such as a plaid, check, or stripe. And if the quilt is already enough pattern for you, go with solid sheets!
If you are thinking of trying some pattern mixing, the bed is a great place to start! You can use a variety of bedding you already have in your home. Or if you do invest in some new pieces and decide this look is not for you, at least you will not need to reupholster or replace an expensive piece of furniture. Bottom line, your home should be full of things that make you happy, but I will always encourage you to flex your design muscle and try something new!
One Final Addition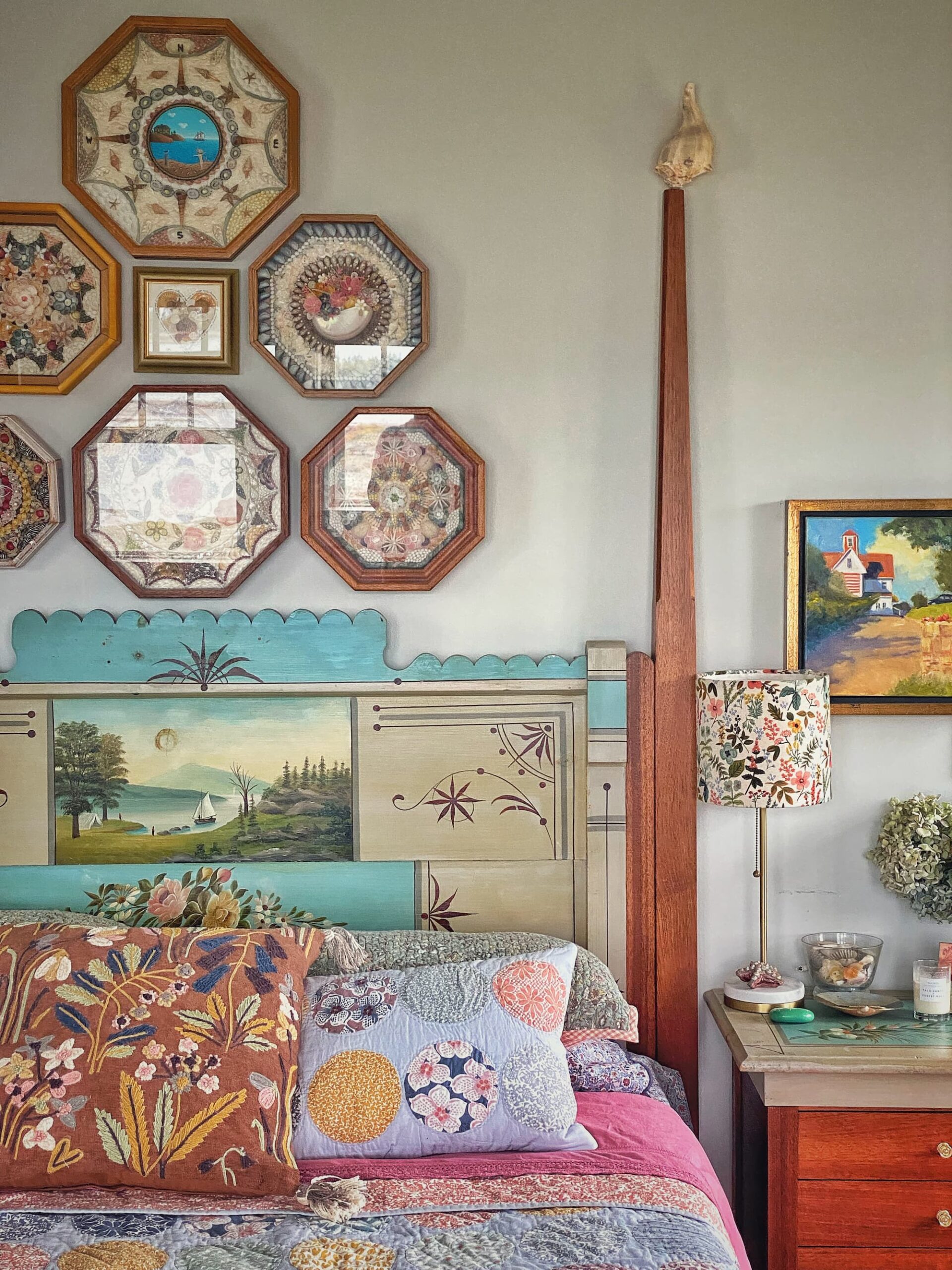 Design is a process….. After I had taken the photos for this blog post, I went to Home Goods to get some additional placemats for a Labor Day cookout I was hosting. Of course I had to take a spin down the pillow aisle and couldn't resist this beauty. The embroidery adds some beautiful texture. The brown background picks up the dark wood in the room. (The bedside table is looking oddly red in the left photo…. It is the same wood as the posts on the bed.). And of course it also adds another layer of pattern!
I would say the bed is made!
The Rest of the Room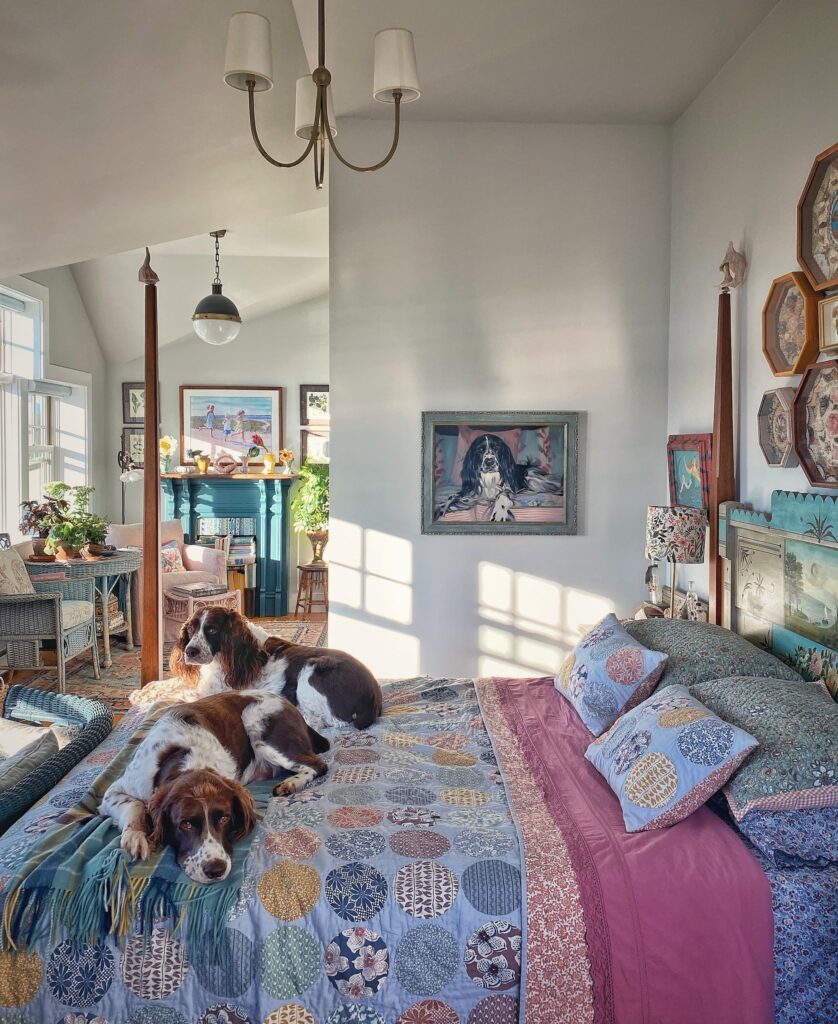 Whatever you choose for your bedding, it should continue the story you are telling elsewhere in the room. You can see that the new bedding has the same bright and happy cottage vibe as the rest of the room. (More on the sitting area and fireplace another time!)
For more on creating a Maine coastal cottage look in your home, check out my blog post "6 Ways to Add Coastal Maine Charm to Your Guest Room"!
About That Bed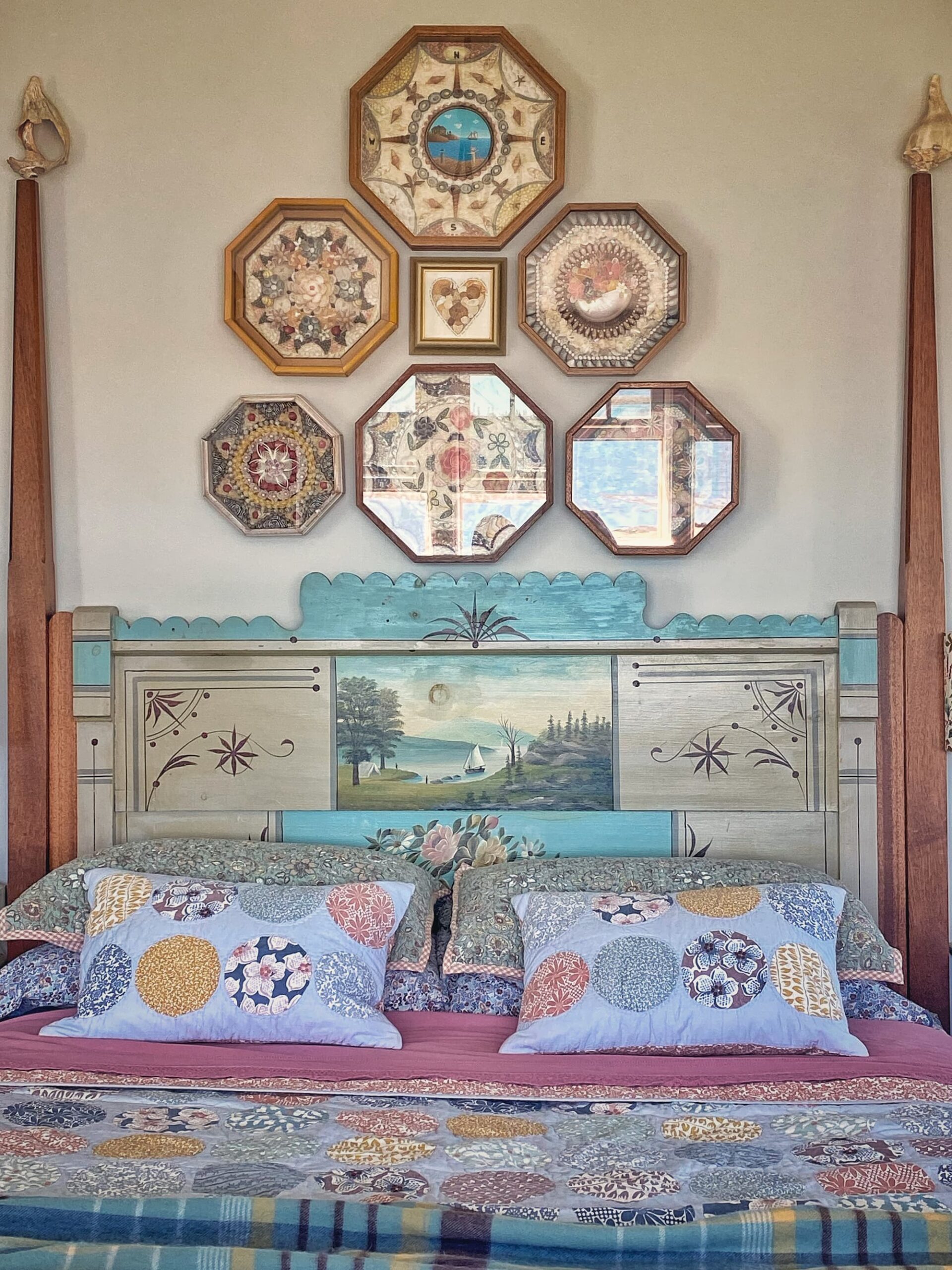 The showpiece of the room is the four poster bed. I had it made from a painted cottage headboard dating to the late1800/early 1900's. The headboard is actually part of a set I got at a local antiques store, which also includes a washstand, table, and dresser with an attached mirror. I use the washstand as a nightstand on one side of the bed, and I had the table top made into a nightstand with drawers for the other side of the bed. I have the mirror atop an antique natural wood chest of drawers.
The original painted finish on all the pieces is beautiful, but the scene painted on the headboard is next level! I feel as if it was crafted over 100 years ago just with my coastal cottage in mind! Since the headboard was only a full size, I had the posts added to make it a queen, and also to give it height more commensurate with the vaulted ceiling in the room.
The artwork hanging above the bed are Sailors Valentines. The designs are made from tiny shells! They are also a story for another day!
Sweet Dreams!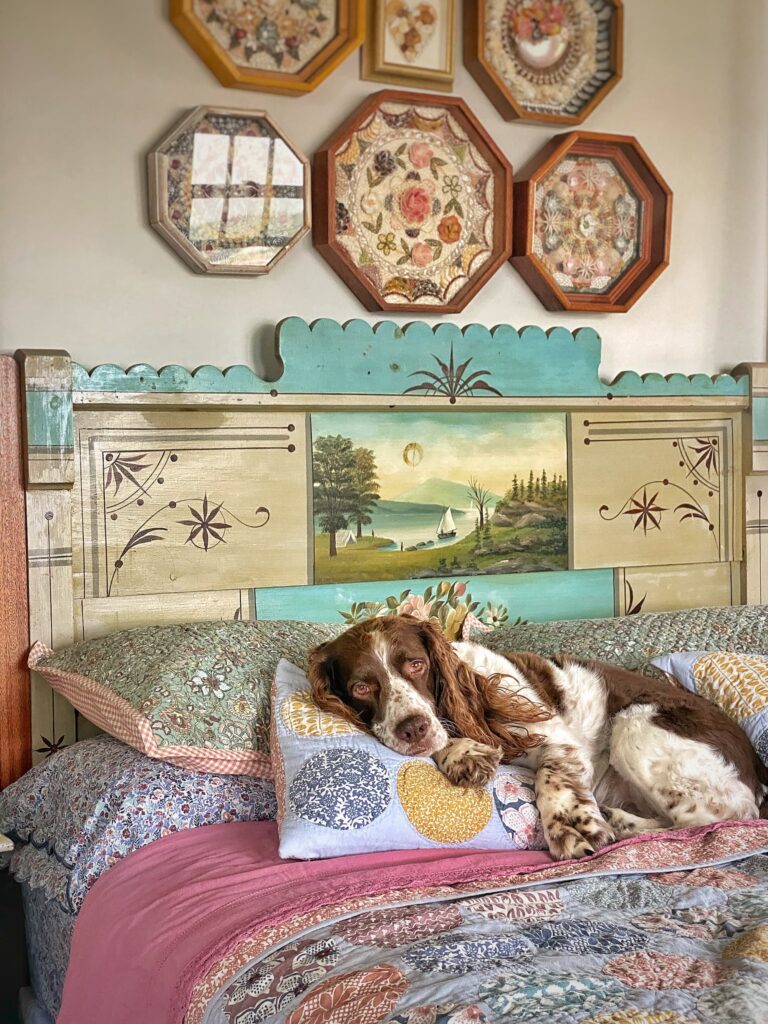 My site was running like mud today and eventually crashed as I was pulling this post together, so it has taken me way longer than it should have. I will leave you now with Maddie and her soulful look. She certainly loves the new bedding!
Stay cozy and have sweet dreams, friends!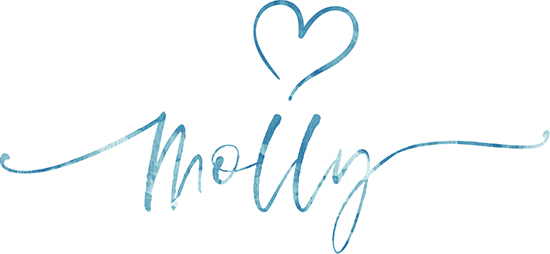 Shop the Post
Here are the links to shop my Garnet Hill bedding:
Johanna Quilt and Throw Pillows
Scalloped Pillowcases and Fitted Sheet