Fall is still a beautiful time to enjoy dining al fresco. Join me on the deck for a harvest table set with fall's bounty!
October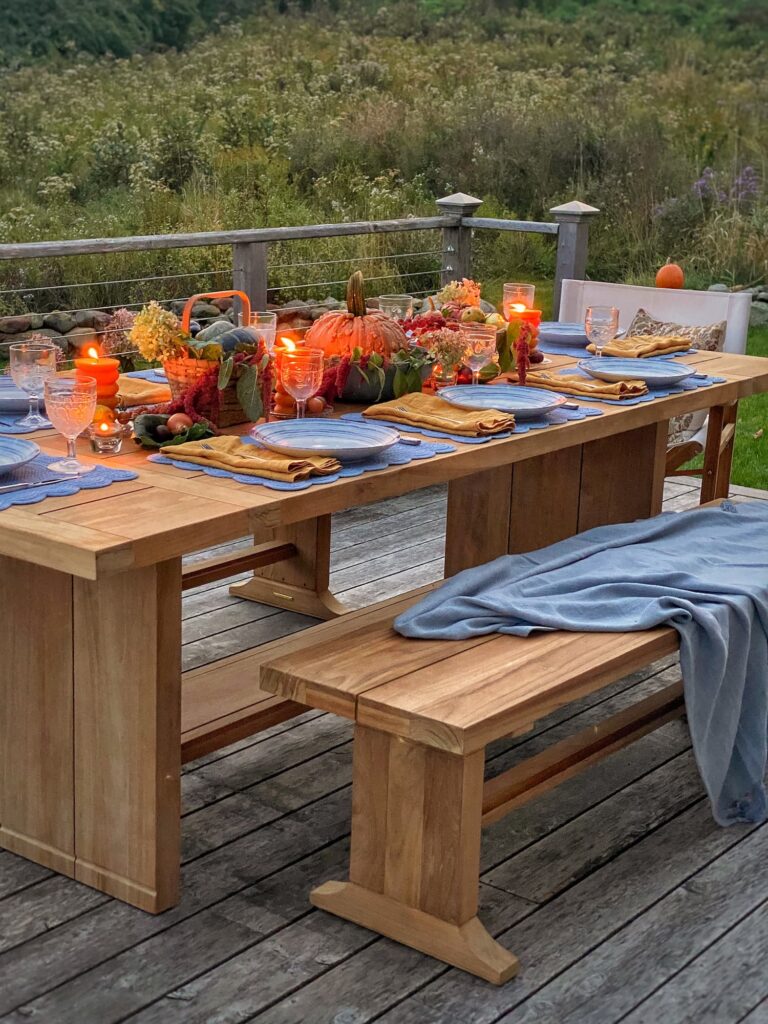 The first week of October felt like a second summer here in Maine, with blue skies and temps in the 70's.
Perfect weather for dining al fresco!
Won't you join me on the deck for a harvest table set with fall's bounty?!
I am sharing all the details on how I styled the table using fruits and vegetables from local farm stands.
The Dining Set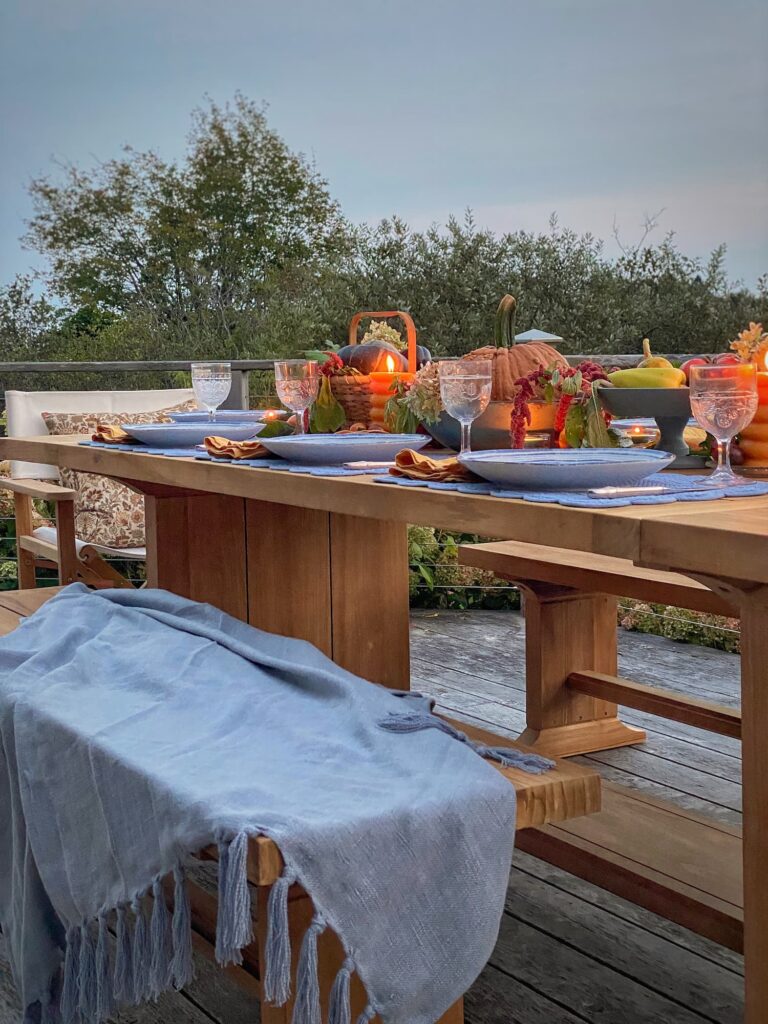 The foundation of any dining experience is , of course, the dining table and seating.
Our old cedar table and chairs had definitely seen better days. Everything here really takes a pounding from the ocean weather.
That's why I was thrilled to partner with Ballard Designs on a new outdoor dining set!
The Tybee table and benches I chose are both good looking — I love their clean lines — and also sturdily-made from solid teak. The table weighs 170 lbs! I know these pieces will last for many years, only growing more beautiful as the teak weathers to silver.
And the Suzanne Kasler teak campaign chairs complement the table perfectly. They are comfortable and fold easily for storage.
My new dining set inspired me to style the table for a magical candlelit dinner.
Wait until you see what I used for the table decoration!
The Table Setting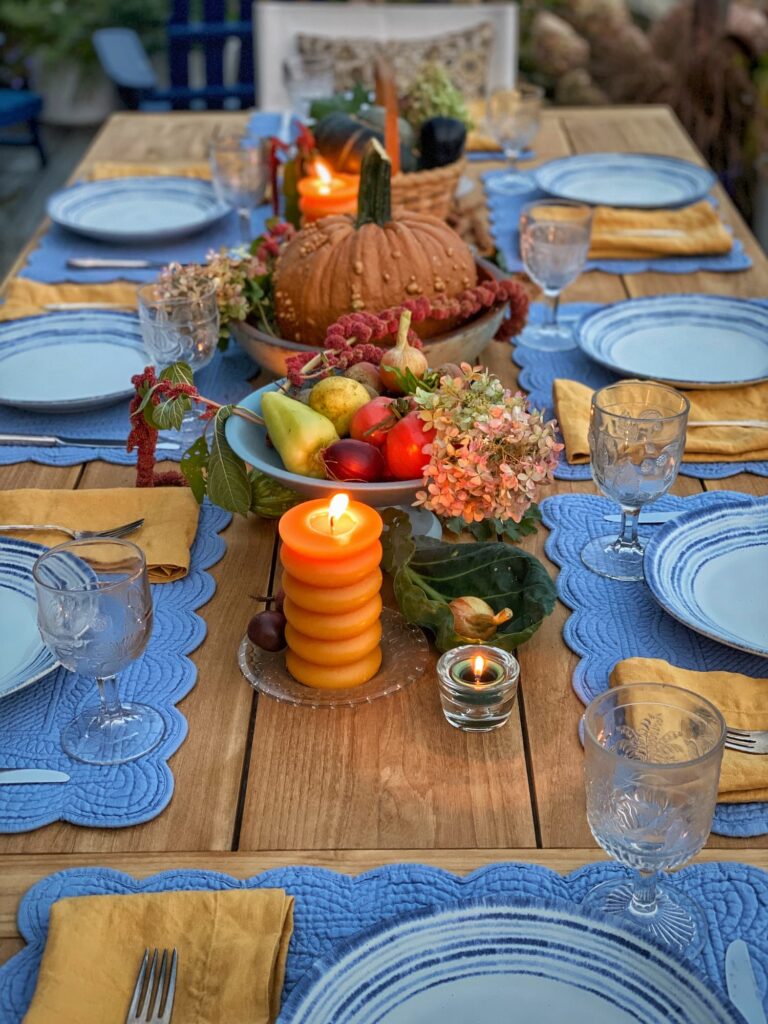 Table Linens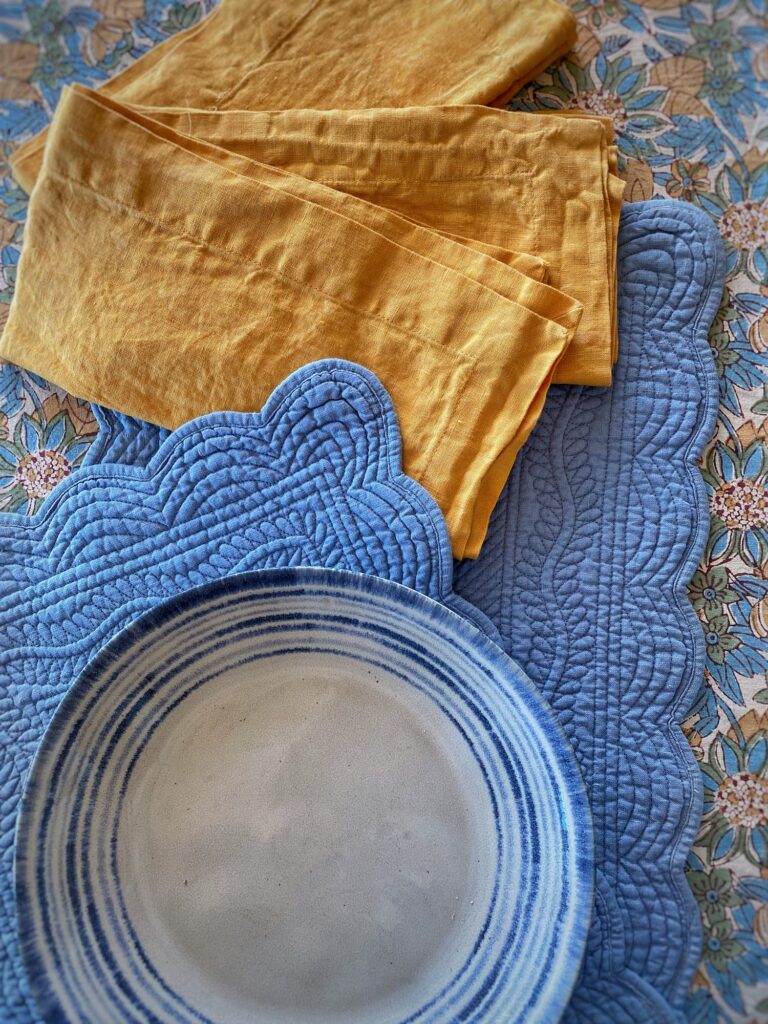 When setting a table, I start with the linens.
They establish the colors and tone.
You might guess that blue is usually a part of my color palette! It ties the table to the rest of the home and I see it as sort of a "neutral" that goes with everything and works in every season. Kind of like blue jeans. Or the sky.
And really, it just makes my eyes happy.
So I recommend choosing table linens in colors that make you happy and that relate to your home.
For this table, I chose cornflower blue placemats, paired with deep goldenrod yellow napkins. They happen to match the tablecloth I use this time of year inside, but I also thought they would be lovely outside for early fall.
The quilted design and scalloped edge of Ballard's Marseille placemats add interest and their linen Belissima napkins are the perfect amount of texture.
I also liked that they both set a casually elegant tone, perfect for outdoor dining.
The Decorations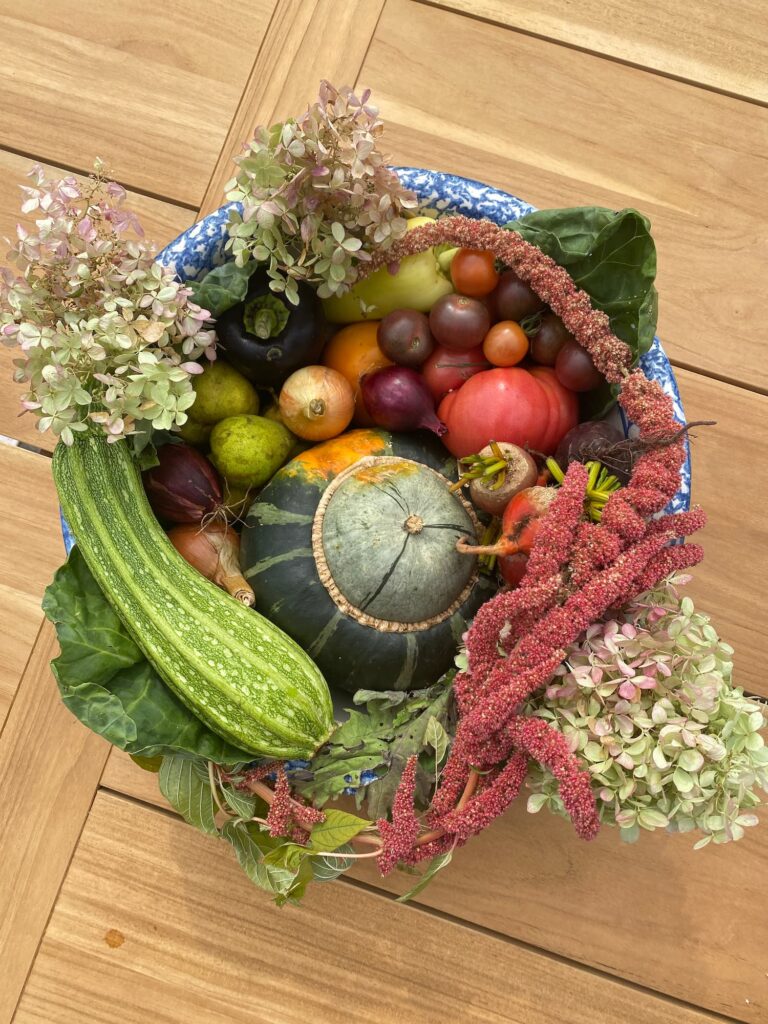 Now for the fun part! Coming up with the table decorations!
I didn't start with a full vision of what I wanted to do. I only knew that I wanted to use what is growing now locally — maybe some dried stems and wildflowers from the field. And of course some limelights.
I headed to the farm stand across the street looking for some yellow pears that I thought would look pretty with the napkins.
Unfortunately (or as it turned out, fortunately!), they only had a few small pears. I grabbed those and then my eye was caught by some beautiful little beets. Also some petit yellow and red onions. Oh, and some multi-colored cherry and heirloom tomatoes, a purple pepper, and a zucchini. I just love fresh produce!
A vision of of a table laden with fall's bounty was forming in my mind….
Next I raided the garden at the food pantry after I finished my volunteer shift. (If you read last week's post, that is how my phone ended up in a raised bed there…) I cut some collard greens, kale, and pink cascading amaranthus.
I made one more stop at another farm stand, where I picked up a butternut and a turban squash.
Once home, I added a rust-colored warty pumpkin I had on hand and some of my dried limelights to the collection.
I was ready to start pulling this together!
Structure
But first, in order to turn all this produce into a centerpiece, I needed some structure!
By structure I mean the "hard" things — those things that support and hold the decorative items you are going to use. That can be something classic like a bowl or vase. A rustic basket provides texture. (Are you tired of me talking about texture yet?!) A pedestal bowl adds height. A tray is good for grouping things.
Or you can think outside the box and use a, well, box — a tool box! A grouping of Mason jars or vintage milk bottles creates country charm.
Silver anything is elegant. Brass or copper are warm for a cozy feel.
Get creative and pull something from a favorite collection.
Structure includes candles and holders — hurricanes or simple tea lights. A grouping of different size candlesticks and tapers makes a statement.
Keep height in mind — everyone should be able to see each other. In my creative enthusiasm, I have forgotten about this more than once. Oops!
For this table I shopped my basement storage and settled on a wood bowl, a small basket, and a painted wood pedestal stand.
I like the mix of texture and color and the different shapes and heights.
For the candles I went with a combination of pillars and votives. I kept it simple and just placed the pillar candles on glass plates. I found these wonderful fluted pillars at Walmart! They match the napkins perfectly! Win!
The votives provide a soft overall glow to the table. I don't use votives often, but I really should!
Pulling It All Together
The Big Parts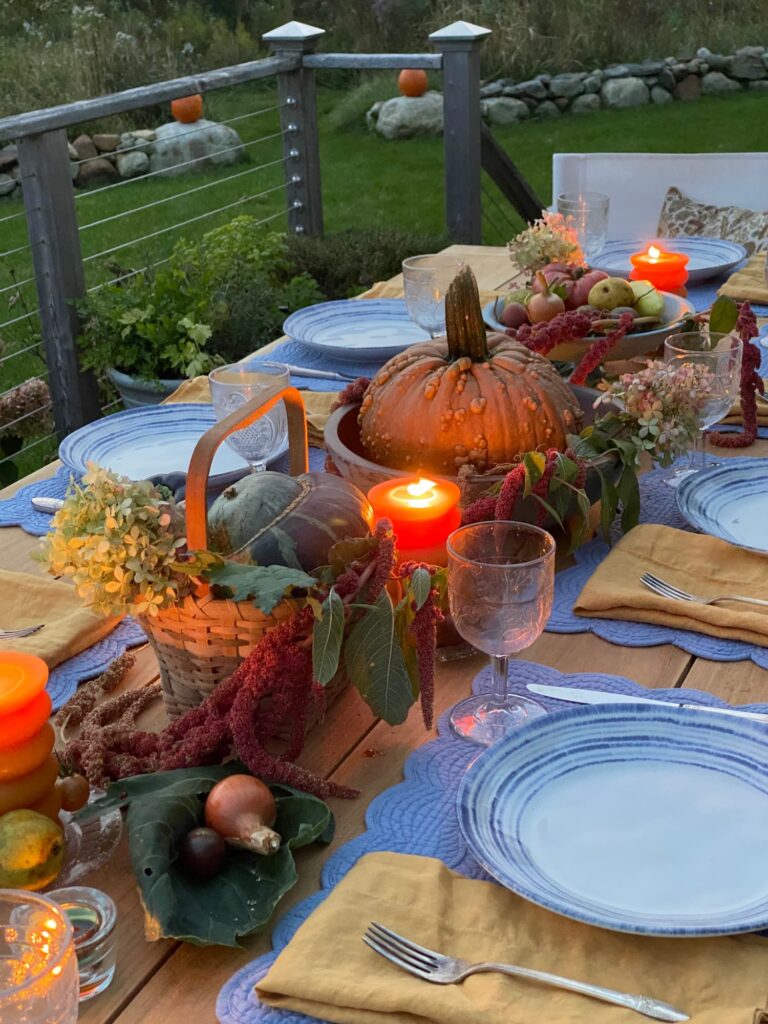 Now to make a table decoration out of all this produce!
I recommend starting with the biggest piece to create a focal point. So I plopped the pumpkin in the wooden bowl and set it in the middle of the table. Easy!
Next I turned my attention to the pedestal stand, arranging a variety of fruits and vegetables on top.
I put the butternut squash in the basket, decided I didn't like it, and switched it out for the turban squash. It needed some height, so I used a rock to raise it up. (That is what I had on hand…)
Lastly, I placed the candles around the table. I chose an asymmetrical arrangement, using 3 pillar candles and 5 votives.
The Details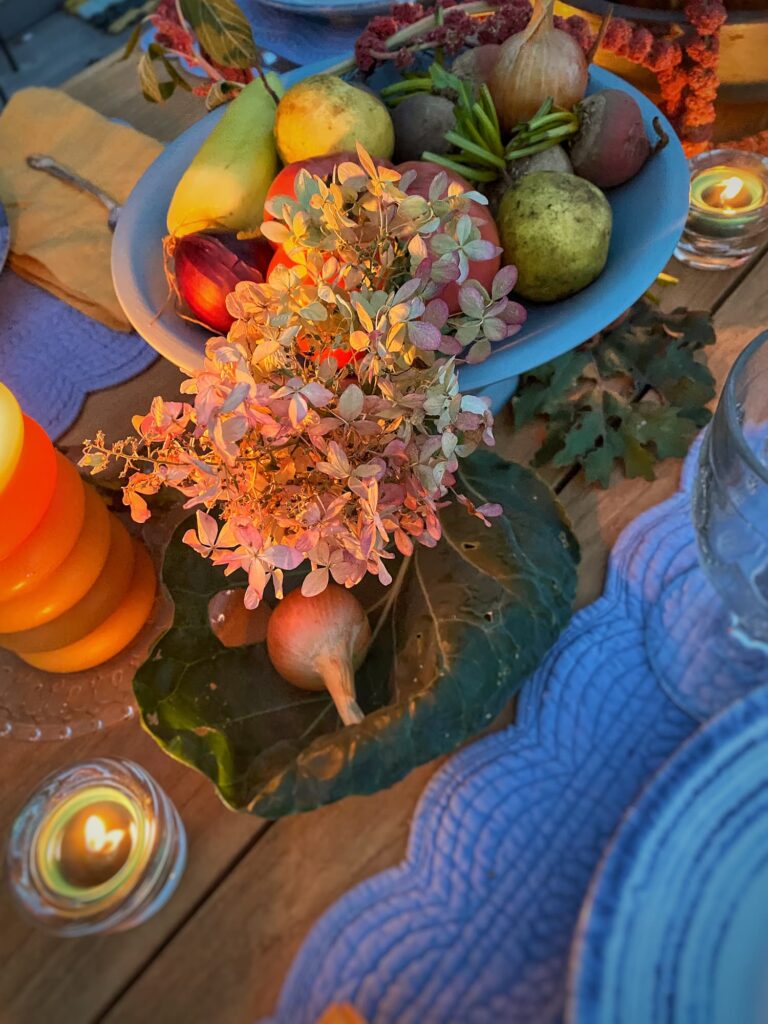 With the structure in place, it was time to start filling things in. I draped the amaranthus from each of the containers and added some dried hydrangeas. Scattered the kale and collard greens around the table, topping them with a few small vegetables. I continued to tuck the remaining produce into spots around the table.
This part of the process is really trial and error, keeping color, size, and shape in mind. Step back every once in a while to look at it from all sides.
I was going for a look of "restrained abundance". A celebration of the fall harvest, but not an overflowing cornucopia!
Striped earthenware plates, my mother's antique pressed glass goblets, and my everyday vintage silverplate flatware were the final touches.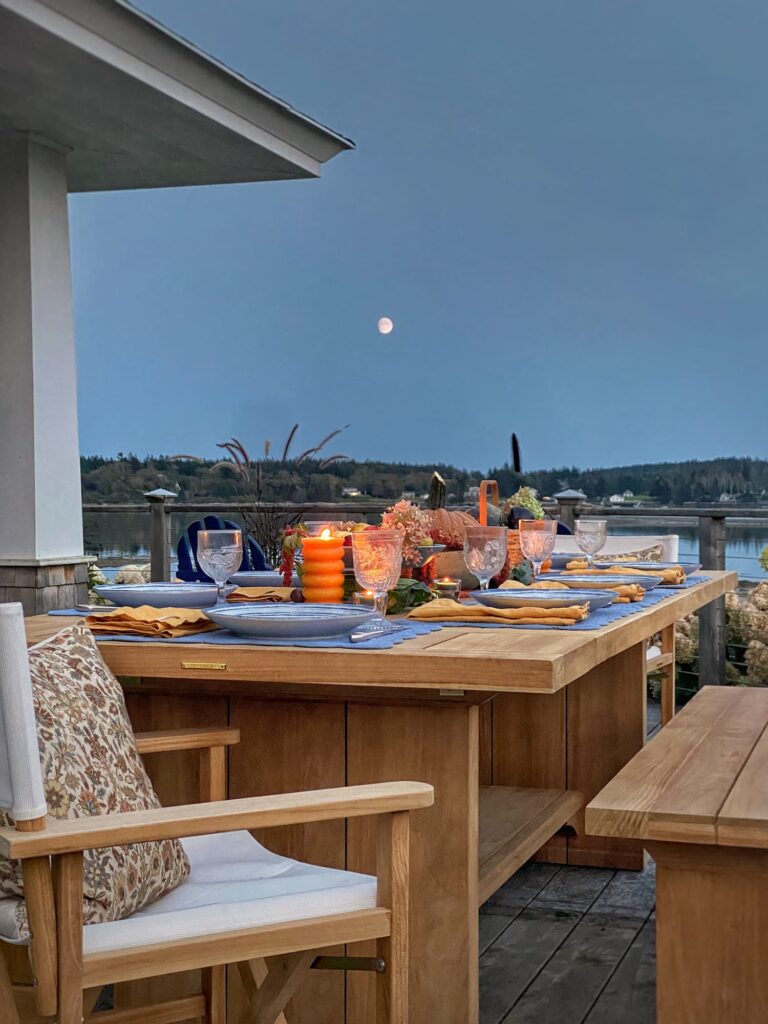 This is one of my favorite table settings I have ever done! The colors and the glow of candlelight as the sun set created a magical ambiance!
I hope this shows you that you don't need fancy or expensive items to create a magical table when you gather with family or friends this fall!
For more ideas on designing a harvest table, read my post Abundant Harvest Thanksgiving Table Setting from last year!
This Week Into Next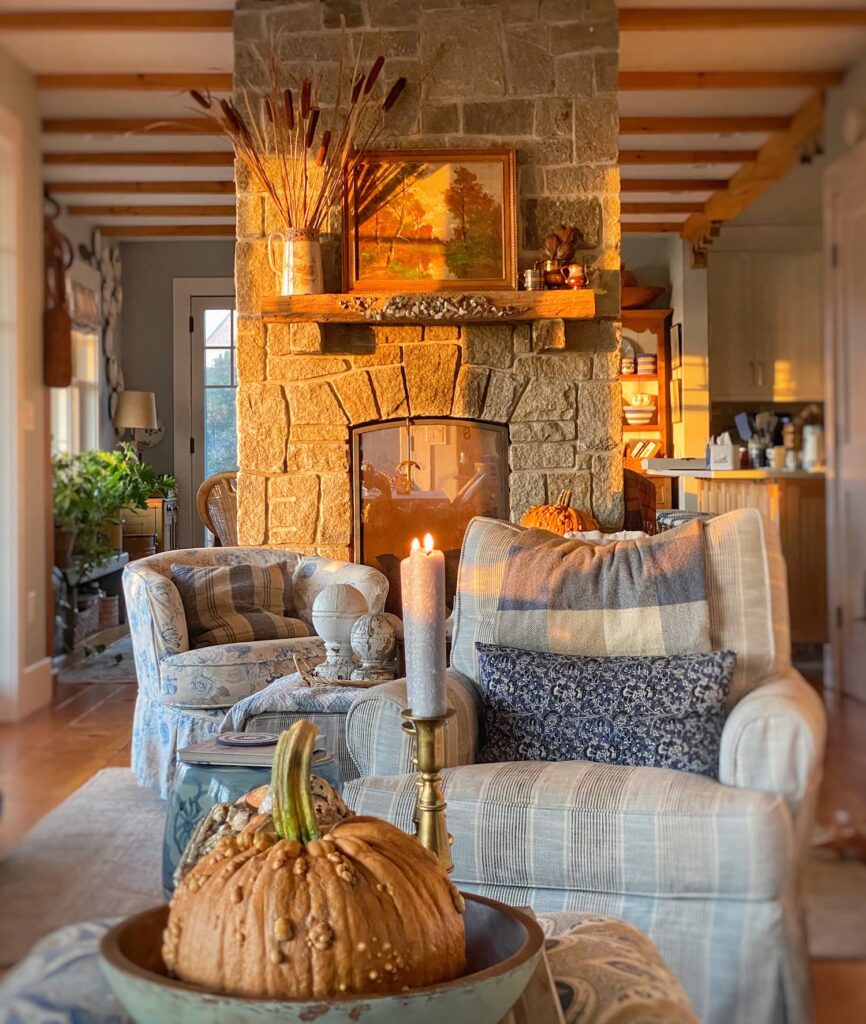 This Week
Well, this week was definitely better than last!
Our community is settling into a new reality as we continue to recover from last week's fires. Thank you for all your kind and supportive messages. I did go into the village last Sunday to see the damage. It was sobering. I shared some photos on Instagram, but not here.
Only pretty things here today.
I had my usual obligations this week, but I tried to make the extra effort also to appreciate the comforts of home. To take in the beauty of the season. I did some cleaning and tidying. But I also took the time to notice the warm play of light in the morning and the cozy glow in the evening. To linger over coffee on the porch. To go for that extra snuggle with Maddie or Cisco.
I decorated the stone wall with pumpkins. On Wednesday I set my alarm a little earlier to get up for the sunrise. One evening I hosted an impromptu gathering of friends and another I made a big pan of this comforting Spicy Butternut Squash Pasta With Spinach (subbing dried sage for the cumin and omitting the jalapeno).
And this morning I set my alarm for 3:15 and made the long dark drive to the airport in Portland. This drive was particularly harrowing, as there was dense fog the entire way. But I arrived safely, and I am posting this week from Michigan!
Right now I am typing on my laptop on one end of the sofa, and my son is doing the same on the other. I enjoy his company, no matter what we are doing! Tomorrow we are going to Greenfield Village and the Henry Ford Museum. (Jack works for Ford.) Saturday we will hit up Eastern Market in Detroit. And Sunday we are headed to Ann Arbor.
Next Week
Then next week I am hitting the road again. This time to visit friends in Maryland and go to the Luckett's Fall Market. So excited to attend this big Virginia antiques market! Of course I will also fit in some time to visit my sweet little granddaughter, Poppy, when I am in the DC area!
Have a great week and be well, friends!