It's a snow day! Join me for breakfast by the fire, a peek at my winter mantel decor, a romp outside with the dogs, some of my favorite blogs, and warm cookies straight out of the oven!
Rise and Shine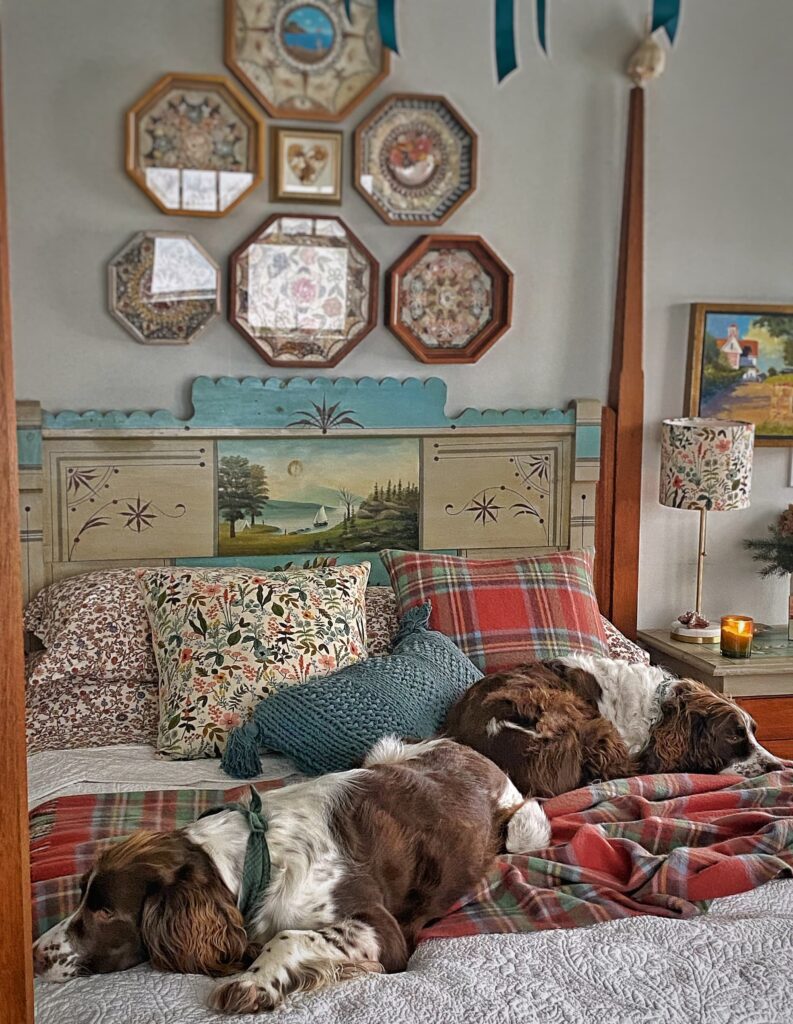 I wrote in my previous post One Winter Week in Maine about how we don't get a lot of snow here on the coast. But this week we had some real snow predicted Thursday night into Friday. So I switched my plans for this blog post. When I went to bed on Thursday night it was snowing lightly, but I have been disappointed in the morning before. That night I dreamed that I woke to green grass and sunshine. What was I going to do for this blog post if we didn't get snow?!
This time, though, the forecast was spot on — I woke to a snowy winter wonderland! Maddie and Cisco seemed to know. They usually continue to snooze on the bed while I get ready for the day, but with snow calling them, they didn't want to settle back down. I had a hard time getting a picture of them "dozing peacefully" for this post, haha!
Particularly on these snowy mornings, I love flannel sheets on the bed! I changed out the Christmas throw pillows, but kept the cozy Garnet Hill bedding — floral flannel sheets, a warm quilt, and tartan throw pillow and blanket. This is in keeping with my gradual transition from Christmas to winter decor throughout the house.
Breakfast by the Fire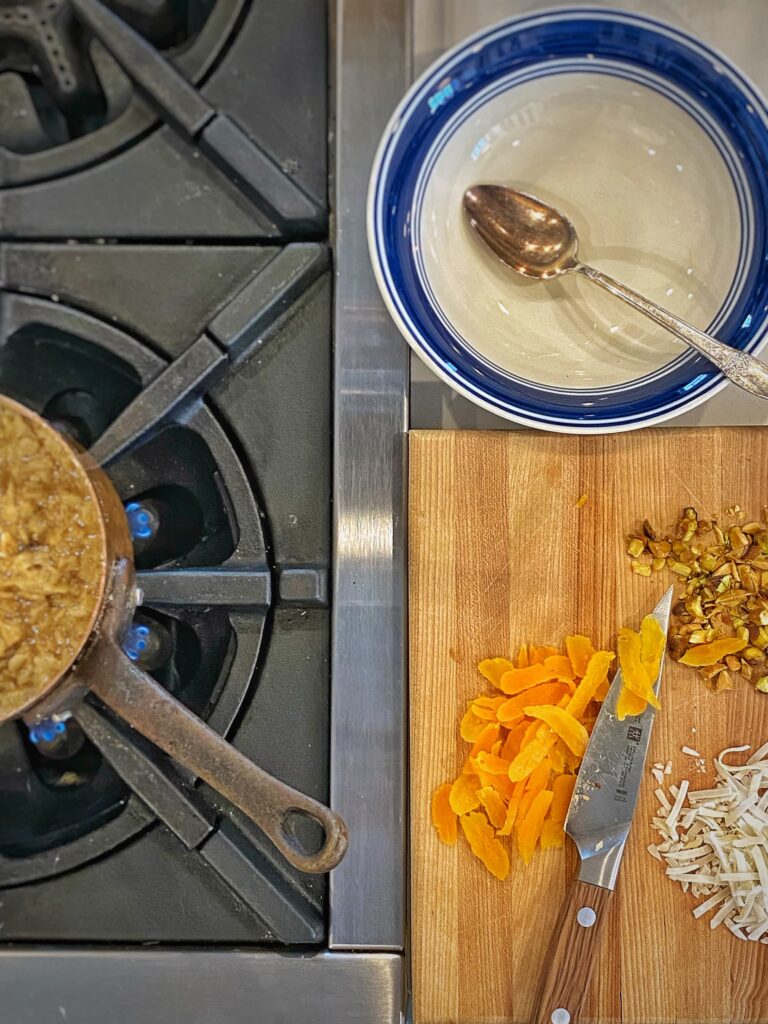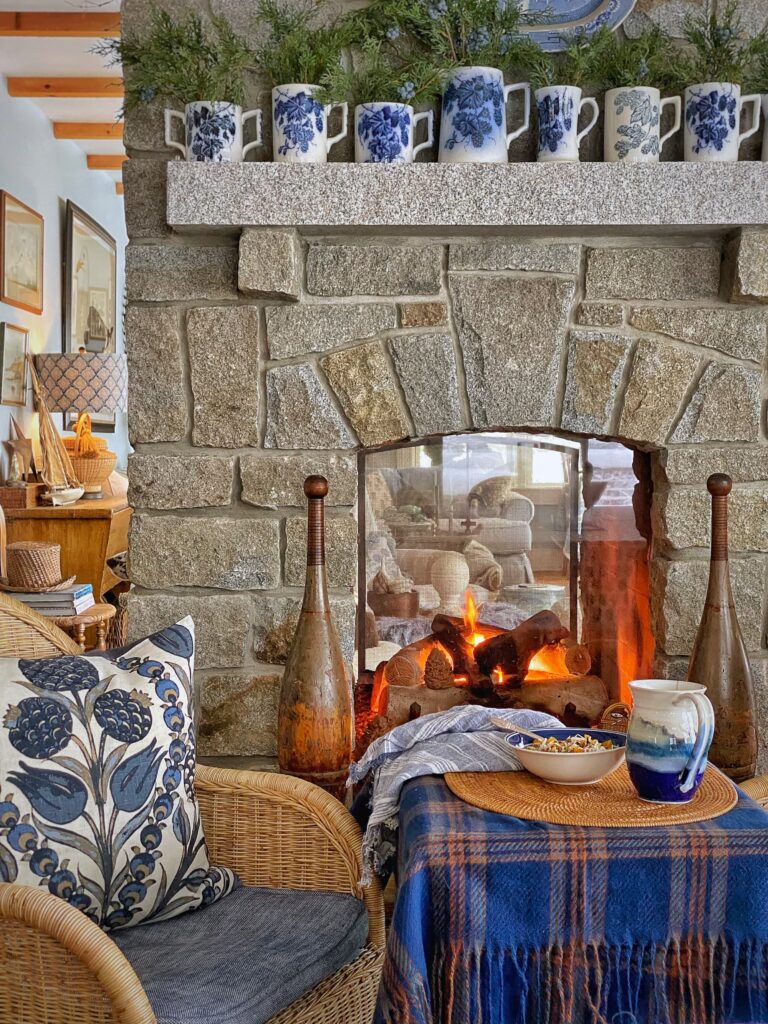 In the fall and winter I set up a small table next to the fireplace in the dining area. On chilly days it feels so cozy to eat next to the fire while looking out at the water. It also happens to be where I am working on my blog post today, as I watch the snow fall. Not a bad setup!
My weekday breakfast of choice this time of year is a bowl of nourishing oatmeal. On weekends I make eggs.
This is how I am loving my oatmeal these days: Old fashioned oats cooked slowly on the stove in oat milk. I sweeten them with some good Maine maple syrup and add a sprinkling of cardamom and a pinch of salt. Then I top them off with thinly sliced dried apricots, chopped pistachios, and some unsweetened coconut. This is the oatmeal version of my Cardamom Granola, which I shared in my blog post Easy Homemade Granola Breakfast Apple Crisp. So yummy and just a little bit exotic!
Winter Mantel Decor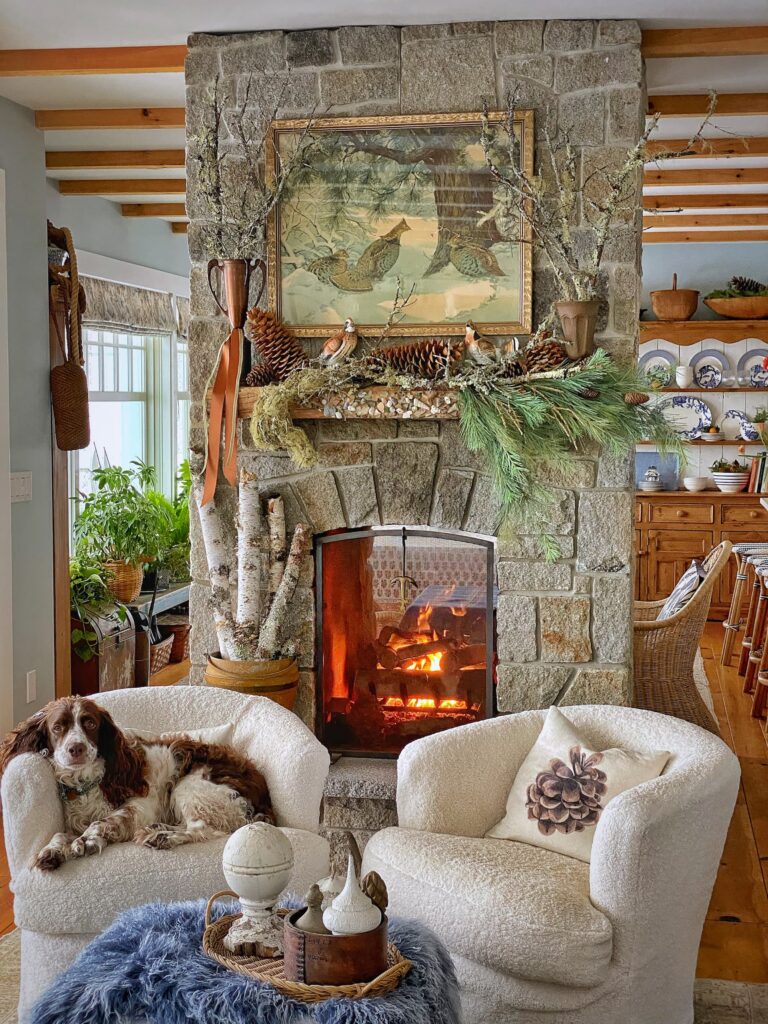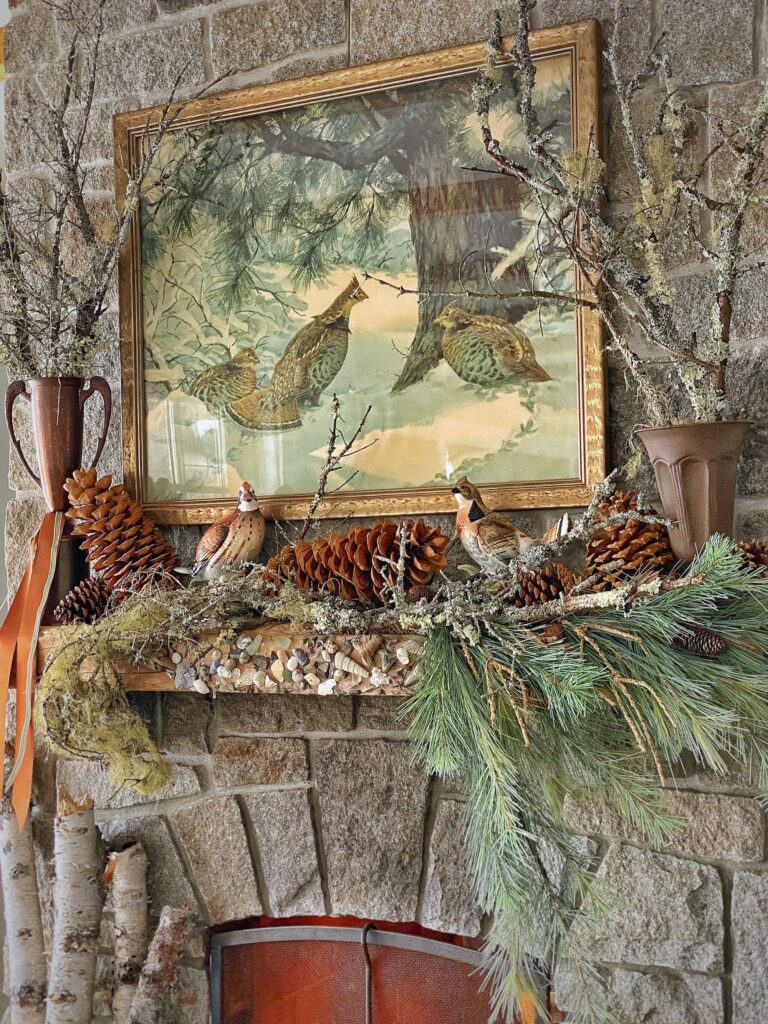 As I mentioned above, I have been making a gradual transition from Christmas to winter around the house. Because I used a lot of natural decor elements for Christmas, much of it still feels right in January. I did a complete change of the living room mantel display, though. It looks fresh and so perfectly "Maine winter"!
It seems I can't take M&C for a walk in the woods without returning home, arms laden with foraged "treasures". I am particularly in love with the lichen-covered branches that litter the forest floor. They have so much character!
The vintage print of grouse in the snow was a lucky find at a local antiques barn. I bought the two figurines to go with it on Etsy. The large pinecones and faux greenery are leftovers from Christmas. And the branches and birch logs were foraged!
When styling a mantel, it is good to have something tall and something that drapes. I also prefer an arrangement that is asymmetrical, but balanced. Play with objects of different sizes and height until it feels right. Then add some filler — in this case the branches and pinecones — to ground the whole arrangement.
Time to Head Outside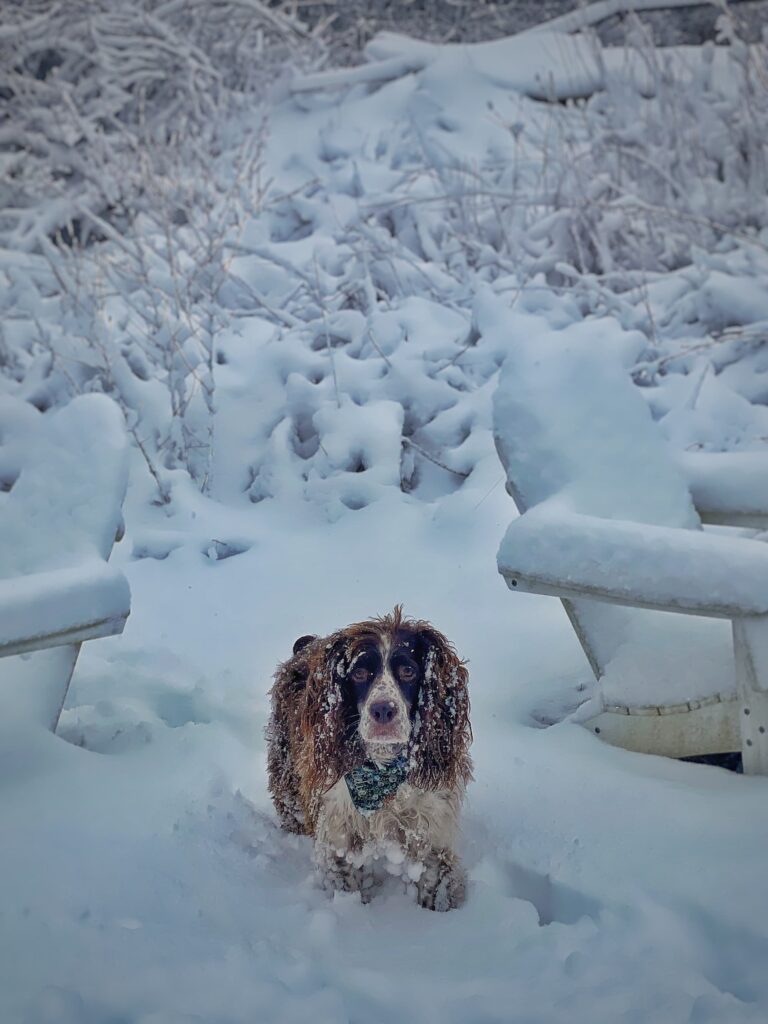 Do you like to go out in the snow?! I do! And Maddie and Cisco love a good romp! They have been in and out all day, each time bringing in huge balls of snow stuck to the long fur on their legs.
Right now it is time for me to head out to clean off the car and shovel the front walkway.
Of course I will snap a few pics too!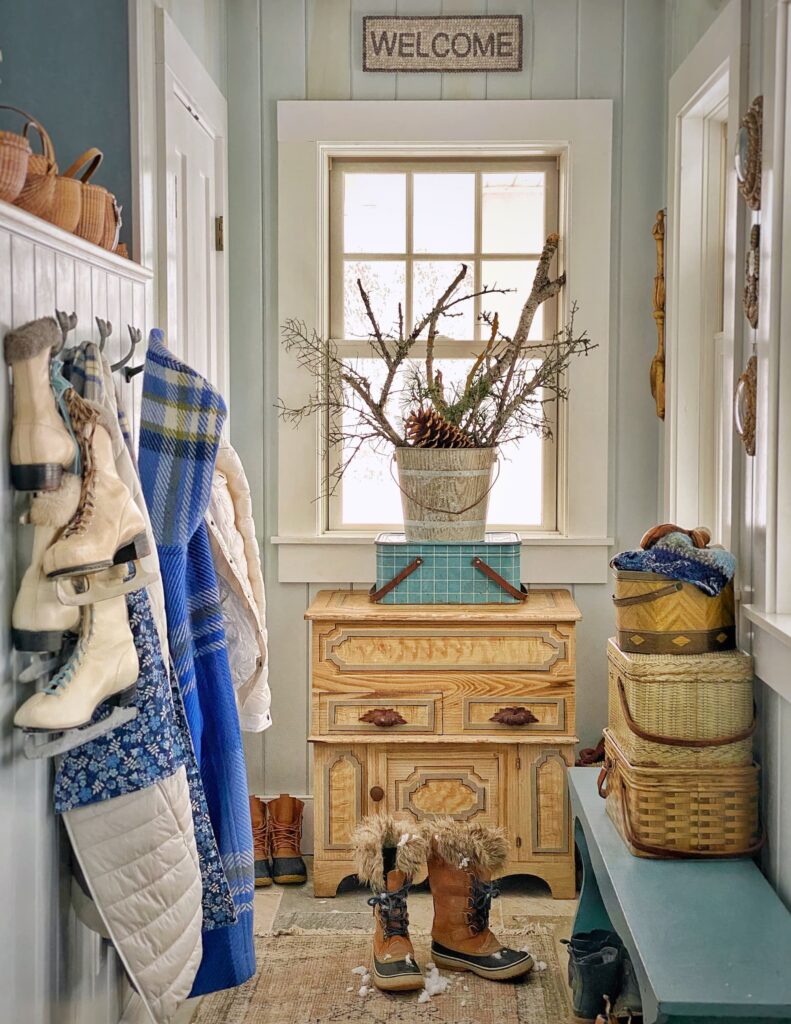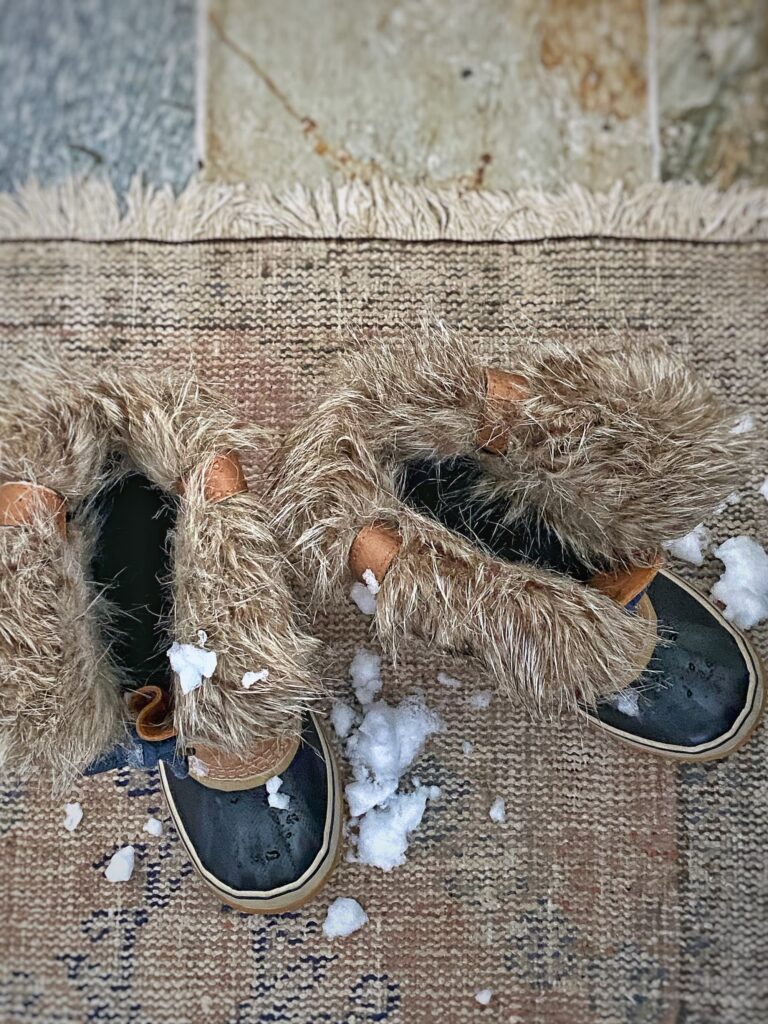 I actually enjoy shoveling snow. Is that weird?
In case you are wondering, no, we do not have a garage. It wasn't in the budget when we did the construction. One day I hope to add one, and I would love for it to have a multi-purpose workout/craft/office/sleeping space upstairs. But that is definitely a project for the future!
Warm Cookies Straight Out of the Oven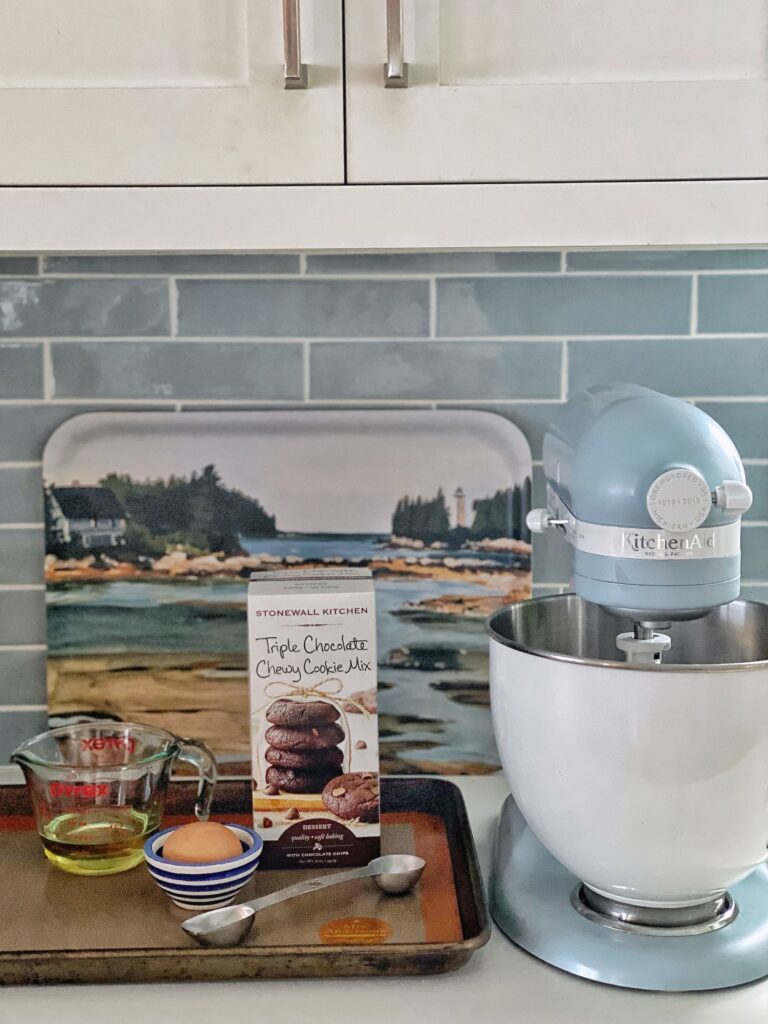 There is nothing like warm fresh-from-the oven cookies after coming in from outside on a snowy day! I love to bake from scratch, but it is also nice to have some good mixes around for the days when you want something quick and easy.
I have found that you can't go wrong with Stonewall Kitchen! They have so many wonderful mixes for all kinds of baked goodies — from scones and pancakes to cookies and muffins.
Do you remember when I went on the blogger's retreat at the Stonewall Kitchen flagship store and offices in York, Maine? It was so much fun! You can read all about it in my post From Maine to Your Home With Stonewall Kitchen!
These Triple Chocolate Chewy Cookies were so yummy! You really can't go wrong with three kinds of chocolate, right?!
A Little Blog Reading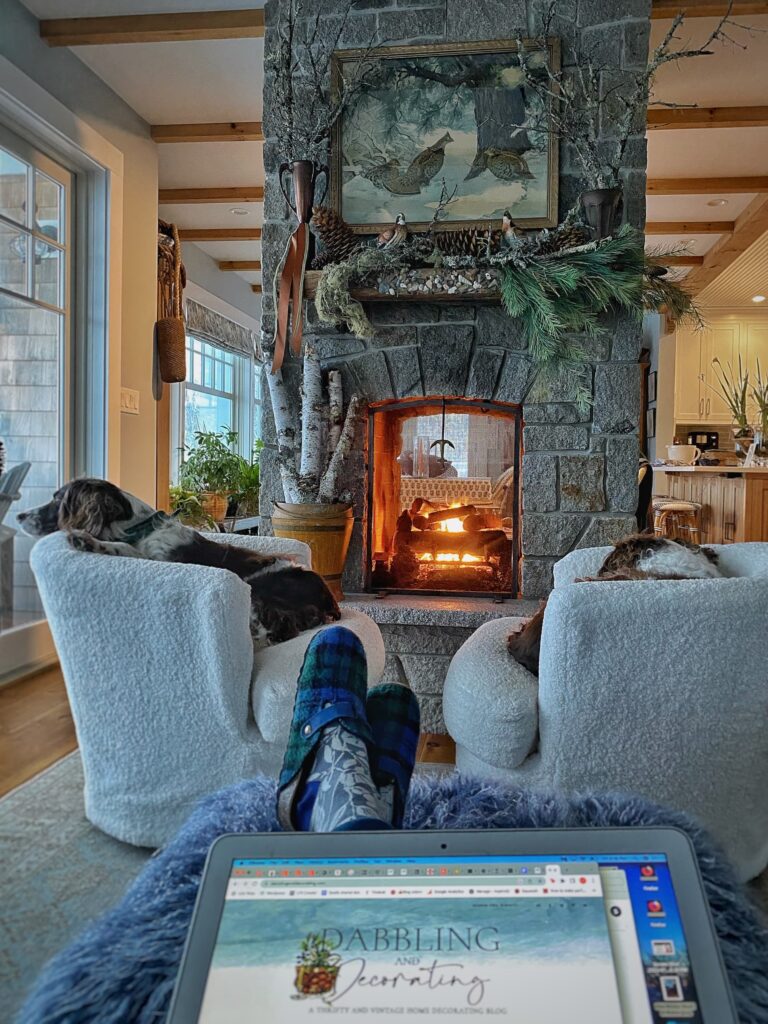 Last week I shared a book that I am reading. This week I want to share a few blogs that I enjoy. Sometimes it is nice to sit by the fire and "visit" with blogging friends! These ladies are all smart, talented, and creative! And definitely an inspiration for me, as I navigate my way through the blogosphere! If you visit their sites, please tell them I say "hi"!
Ann has two beautiful homes — one here in Maine and one in Vermont. She is the vintage thrifting queen and shares wonderfully creative displays and projects using the treasures she finds, as well as items she inherited from her mom. You won't want to miss Ann's "Thrifting With the Gals" outings, when she takes us along with her to local antiques and thrift stores. I know you will love her sassy Bernese Mountain Dog Ella, who always insists on being a part of whatever Ann has going on! We met on Instagram, but I am lucky that Ann has now become a "real life" friend of mine.
Kim lives in a 1920 beach cottage overlooking the Puget Sound in Washington state. Kim's home, full of colorful vintage collections, is charming, but she is best known for her adorable greenhouse and spectacular gardens, all with a watery backdrop. Kim offers both inspiration and practical gardening advice. The best of both worlds!
Kristin somehow manages to do it all! She has a blog, a podcast, and a brick and mortar store — all dedicated to lake life in the North Woods of Wisconsin. Kristin writes about family, home decor, living with the seasons, vintage collections, and more. I always find her posts full of calm, wisdom, and inspiration. I think you will too!
In the past year, Stacy and her family moved to an old farmhouse situated in what can only be called a park-like setting, with a pavilion, statuary, koi pond, swimming pool, and multiple gardens. Stacy is a master gardener, so she is completely in her element, offering gardening inspiration and tips. Stacy also shares seasonal decor, home projects, entertaining ideas, and recipes. A little bit of everything!
I call Rachel the energizer bunny! She does more diy and craft projects than anyone I know! She and her husband even built a greenhouse — then filled it with repurposed and refurbished vintage objects. Rachel is all about budget-friendly vintage style. She also shares creative entertaining and seasonal decorating ideas. You are sure to learn something new from her!
Juliet, Kim, and Elizabeth do "Weekend Meanderings" posts together each Saturday. They cover everything from food to fashion to home decor to local outings. They share recommendations for books, movies, and tv shows. Reading one of their posts is like sitting down for a chat with a really fun and interesting friend.
I probably don't even need to list Marian's blog here, because everyone already reads it, right? Marian is such an incredibly talented individual — she writes, paints, sews, crafts, and has an absolutely impeccable sense of design. She does it all with seeming ease, and makes us feel that we can certainly do it all too. Marian and her family recently moved to a new home. It is particularly fun to watch as she transforms it with her signature style. When Molly in Maine grows up, I want to be like Miss Mustard Seed. A girl has to have goals, right?!
After the Snow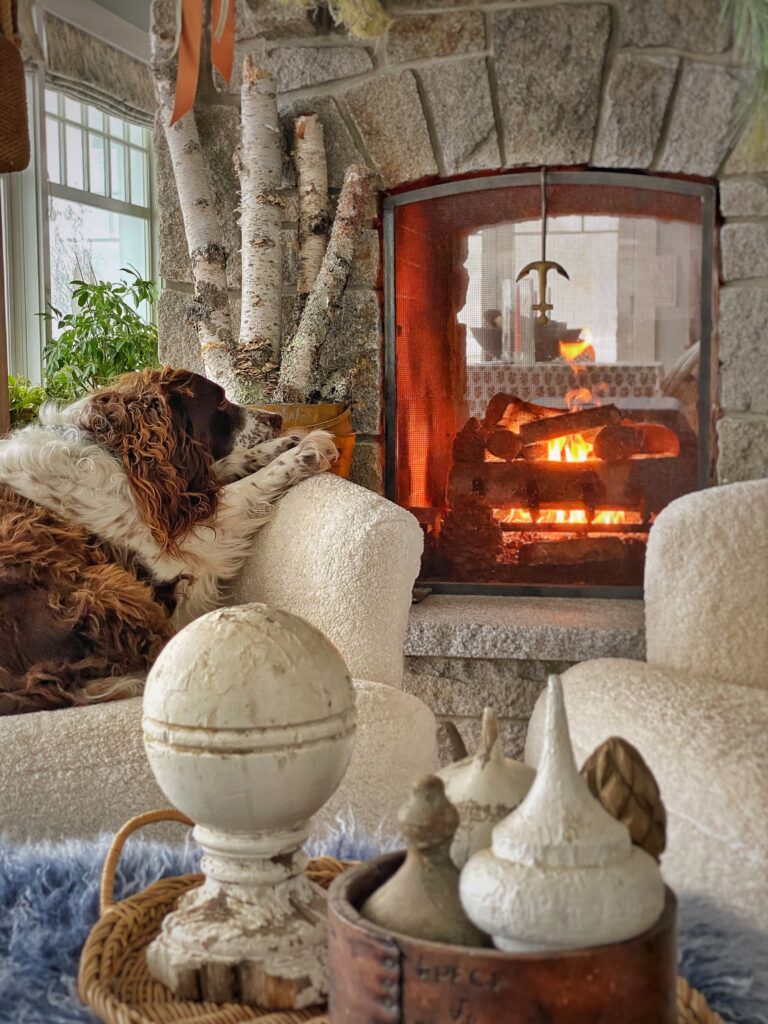 After a day at home, I am headed out early tomorrow morning to go to an auction. This is a new place for me, but I have been told it is a good one. And the online pictures of the items up for auction certainly seem to confirm that. I will let you know how it goes!
I know I told you that this week I would share with you about the antiques show I went to last Sunday and the fundraiser for our local food pantry on Monday. But I couldn't fit it in this post. I can say that I did not come home from the antiques show empty handed. I will show you what I got soon! And it turned out the fundraiser was canceled due to icy weather. I would love to take you all to visit the pantry, because the work we do there is really incredible. But that is for another post!
Time for me to say good bye for this week.
Thank you for spending this snow day with me!