The holiday season is over. Let's move forward into the the new year! Here are some things I have on my mind heading into 2023!
Welcome 2023!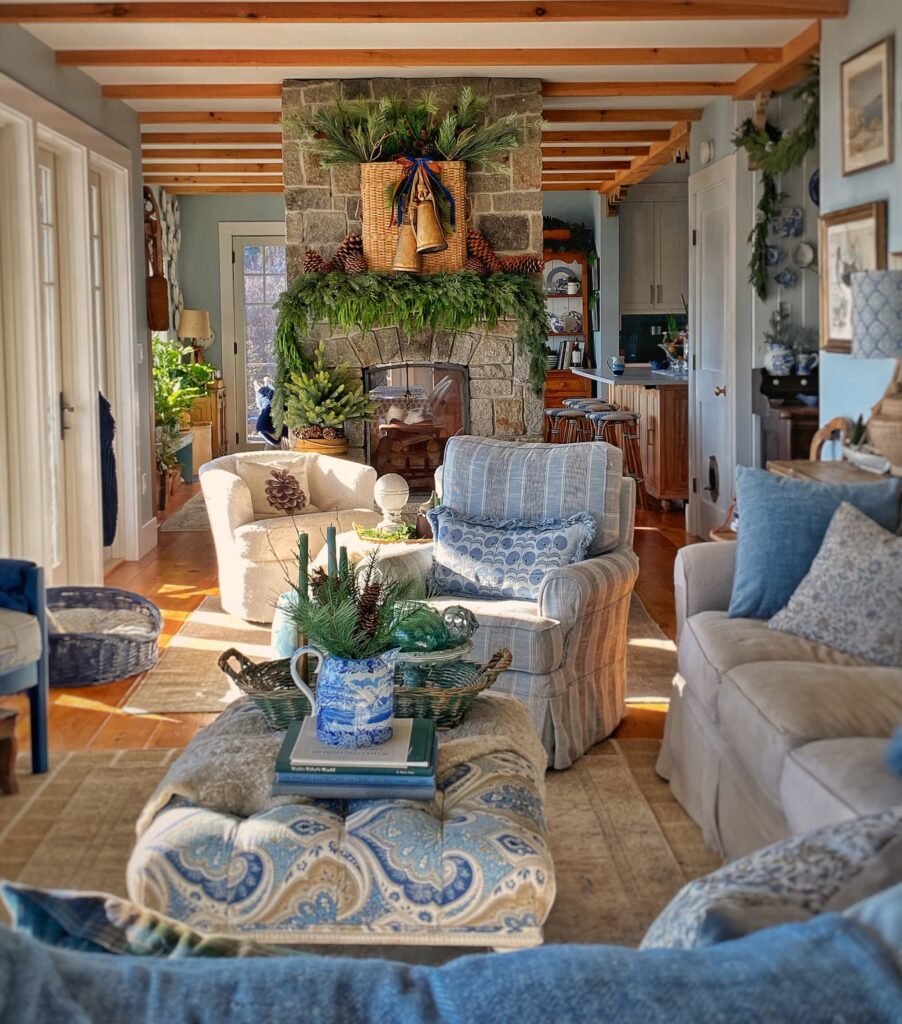 Happy New Year! I hope your holidays were joyful and warm!
I am happy to report that I made it through my first holiday season without the kids! Well, since Jack and Margaux were in Maine with her family, we did get to spend some time with them, including Christmas dinner in Kennebunk. But, except for "Covid Christmas" in 2020, this was the first Christmas since 1991 that our family was not all together. And while I won't remember it as my favorite Christmas ever, the warmth and joy of the season were still strong.
Of course the holiday did not come off without a hitch…. My husband was traveling from California and he was delayed several days by three cancelled flights and an unplanned overnight in Newark due to the massive winter storm that blanketed the country. Jack and Margaux were also delayed two days and most of their luggage did not arrive until they were almost ready to head back home after New Year's. But they all made it to Maine safely and that is the most important thing!
I enjoyed the quiet days between Christmas and the new year. I am trying to be better about taking down time and not always feeling like I need to be accomplishing something. Five years into retirement, and I still struggle with that! Something to focus on in 2023!
While I am not really one for new year's resolutions, I have thought about what this year holds for me and some things I want to focus on. Here is what is on my mind as I head into 2023!
Photo Shoot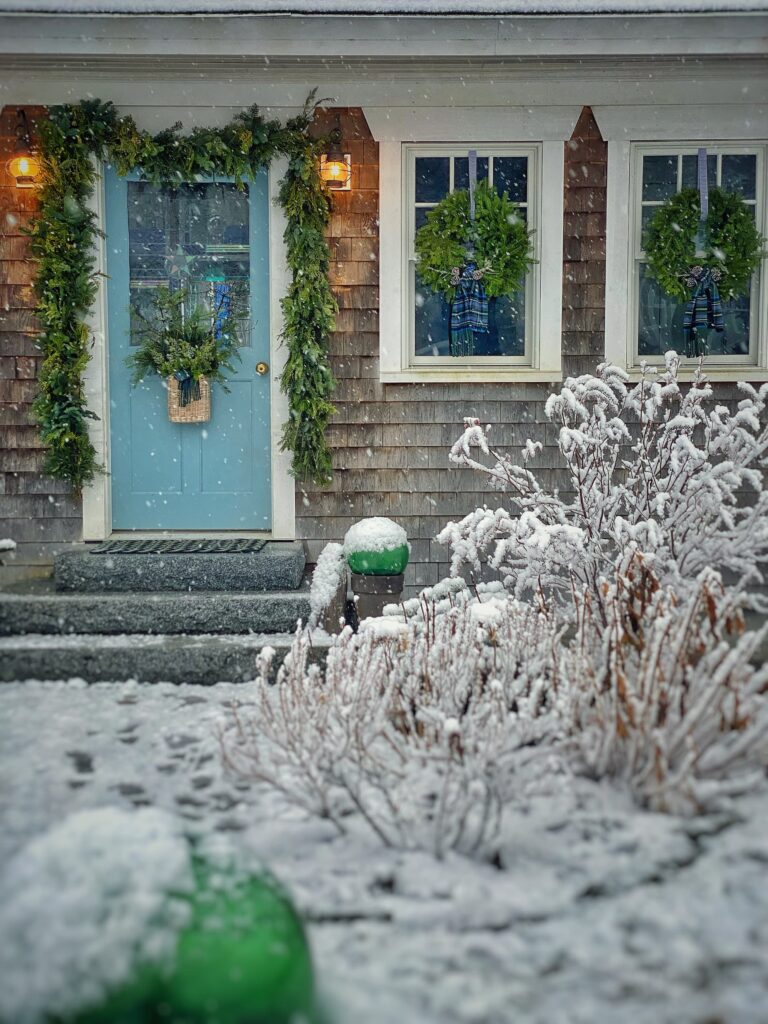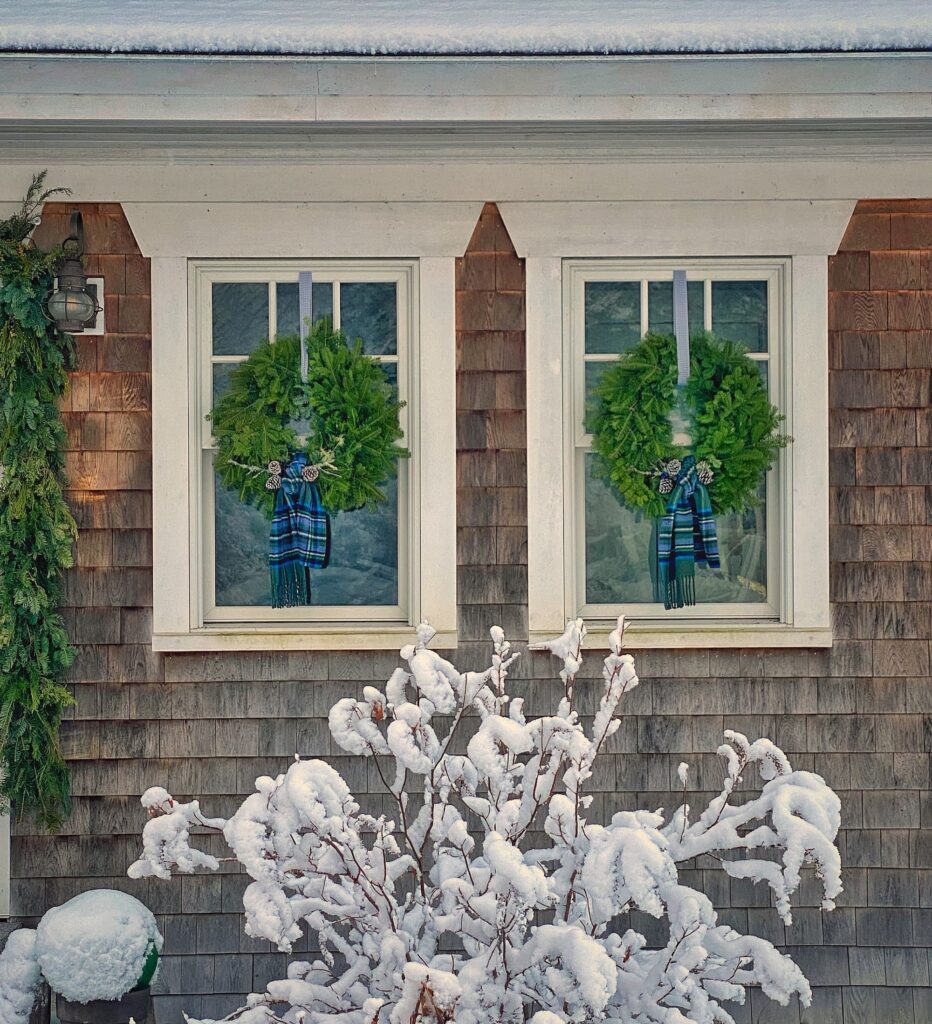 I am not starting the new year with a clean slate in the house, like so many of you. In fact, I am still tweaking my holiday decor a bit. It will stay up through January 10th, when a crew from Better Homes and Gardens is coming to shoot the home for next season's issue of Cottage Style Christmas! This is such a huge honor for me and made it fun to decorate the house, even without the kids being home. It also allowed me to flex my design muscle a bit, while still keeping things natural and very "Maine". I hope that my pinecone tree and pops of orange will offer readers something a little different!
This past weekend I swapped out the flimsy bows on the outdoor wreathes with jaunty plaid "scarves" I made from a fringed blanket. I will collect a few more greens from the woods, wrap some pretend presents, and give the house a good clean. A few more bows here, an extra garland there, and I should be good to go! I am a little bit nervous, but mostly excited. It is definitely a fun way to start the year! And I can't deny it is nice to have the glow of the holidays in the home a little longer — especially on icy gray days like today.
Babies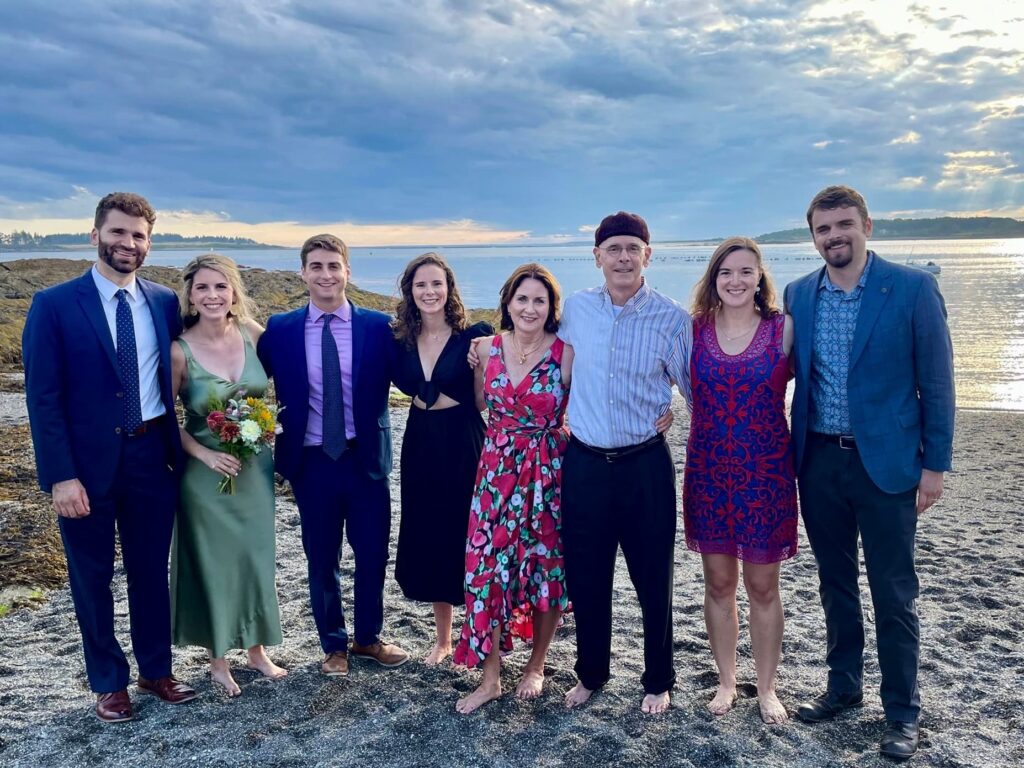 The big thing on my mind as I head into 2023 is babies! This year I will become a true "Coastal Grandmother" — times two! Both our daughters are expecting! Leah is due in just a few weeks, on January 31st, and Zoë is due in early April. To say I am over the moon would be an understatement!
So this year will involve lots of travel! Leah and Adam live in Minnesota, and Zoë and Sam are in Washington, D.C.. My first trip will be in February to D.C. for a baby shower and to help get the nursery ready. I am all in to hang wallpaper, move furniture, and generally fluff their nest! Shortly after that I will travel to St. Paul to meet my grandson! My cup runneth over!
Fitness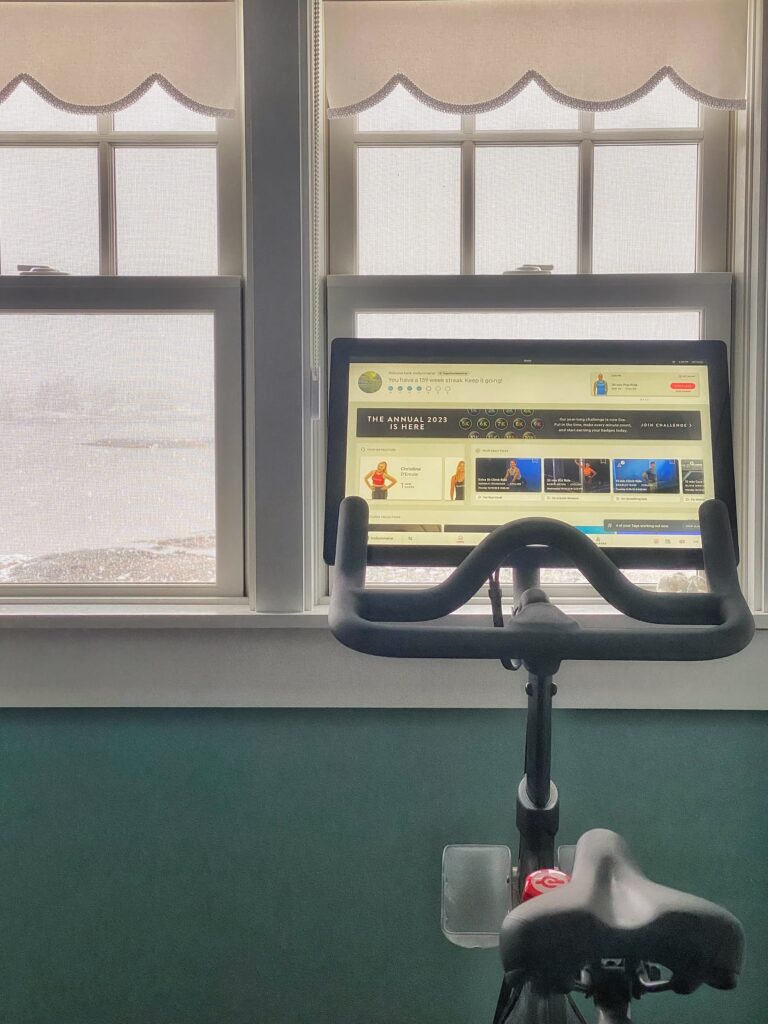 Fitness has always been a top priority for me. I left my longtime gym when we moved to Maine, so one of the first things I bought for the house was a Peloton bike. I am a true cardio junkie — a good sweat always makes me feel better! You can find me on the bike pretty much every day. As I age, though, I realize how important strength training is too. Last year I made the effort to increase the number of strength classes I took and noticed a real difference. In 2023 I would like to build off last year and become even stronger. After all, I am going to need some muscle to lift those two grandbabies!
Another thing I left behind in Maryland was my outdoor cycling group. We used to ride every weekend, spring through fall and completed a number of lengthy cycling tours. Sadly, I have not found a group to ride with here in Maine, and I miss it terribly. It truly feels like I have lost a part of myself. In 2023 I would love to find a group to ride with, or at least get out on my bike more often on my own. (Though it is not as fun or as safe as riding in a group.) A bonus would be to find a multi-day group ride to do. So, if you are in the midcoast area of Maine and know of a fun cycling group, let me know!
The Blog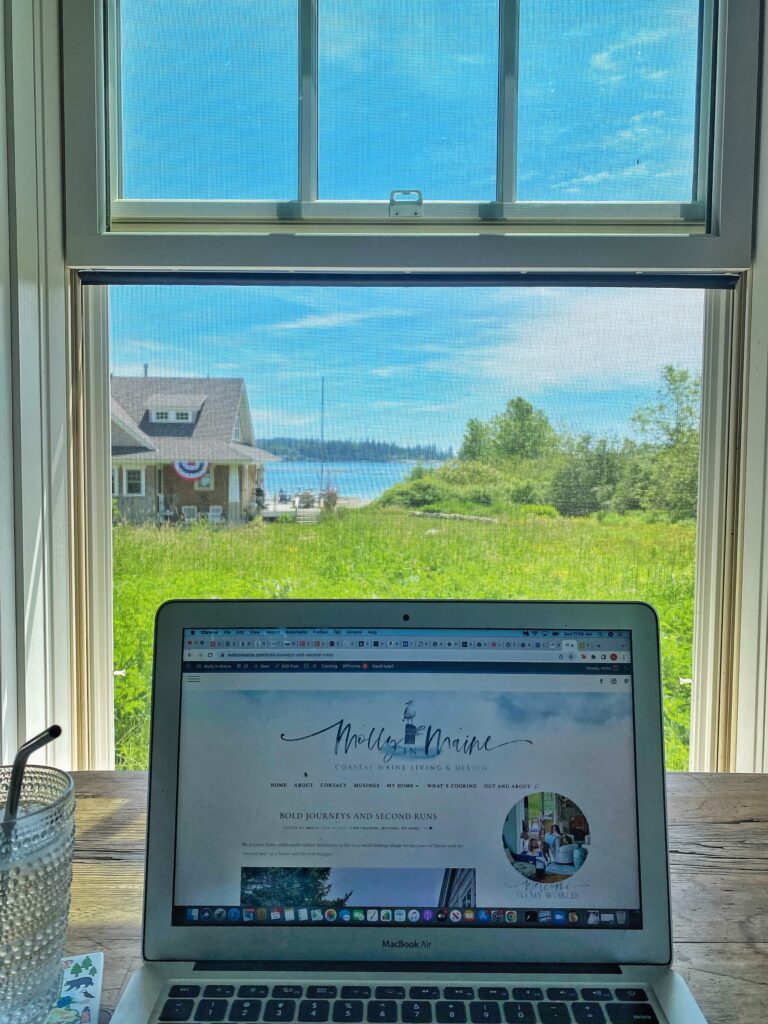 Starting this blog in 2022 was a huge milestone for me. As I wrote in my first post Bold Journeys and Second Runs, I had wanted to do this for three years, but kept putting it off for various reasons. Now that I have this space, I want to focus on growing it in 2023.
I have many ideas for fun new content going forward, projects I want to complete around the house, and there are brand partnerships I would like to establish. But really, my focus here is on all of YOU! What would YOU like to see here? If you enjoy my posts, I would appreciate it if you would share my blog with your friends. And if you haven't signed up for email notifications, please do! Of course I always enjoy hearing from you in comments. It is the most direct way to show your support! Thank you for being here. It truly means so much to me!
Winter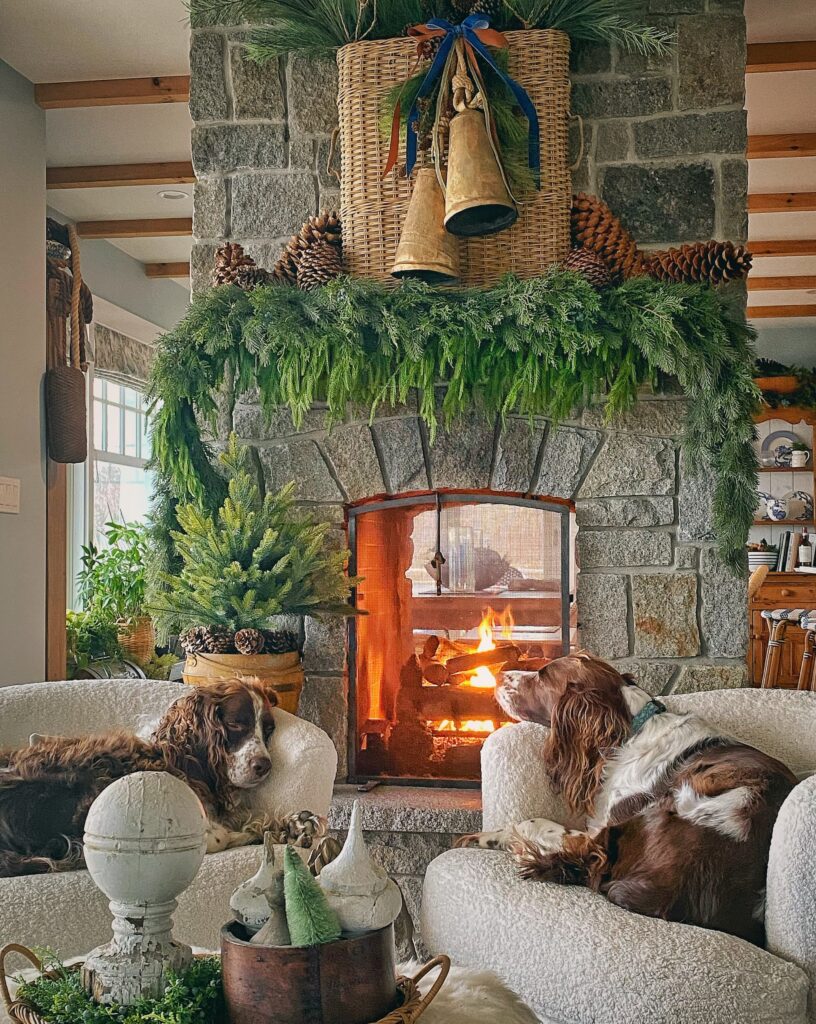 The most immediate thing on my mind right now, I must admit, is getting through the winter. Don't get me wrong, I love winter — snowy weather, turtleneck sweaters, soup dinners, cozy nights by the fire, snuggling under a blanket, warm winter sunshine flooding the house on a frosty morning, hot drinks, puffy jackets, and the feeling of crisp air filling my lungs.
But winters here are long, dark, and very quiet. It is important to focus on self care. Exercise is vital. And so is making the effort to connect with others. When I moved to Maine, a friend told me that I needed a good warm jacket so that I could get outside every day. I admit that on icy days like today, I often don't venture any further than the mailbox. But generally I do try to get out to do errands or to take the dogs for a walk. I always feel better when I do.
All this said, I also need to allow myself to slow down — sleep a little later, read more, accept that maybe I won't get all my projects done. I hope that you will offer yourself this same grace during this quiet season.
Right now, though, I am headed up to hop on the Peloton! (I am mollyinmaine on the Peloton too!) Then I will settle in for the evening. Tomorrow I am meeting friends for coffee!
Thank you for spending time with me today! I hope you will say hi below. Even virtual connections are meaningful!
Let's make 2023 a good one!