Part one of a two-part series on creative ways to decorate your walls. This week let's chat about how to add personality to your home with art and gallery walls!
Adding Personality to Your Home With Wall Decor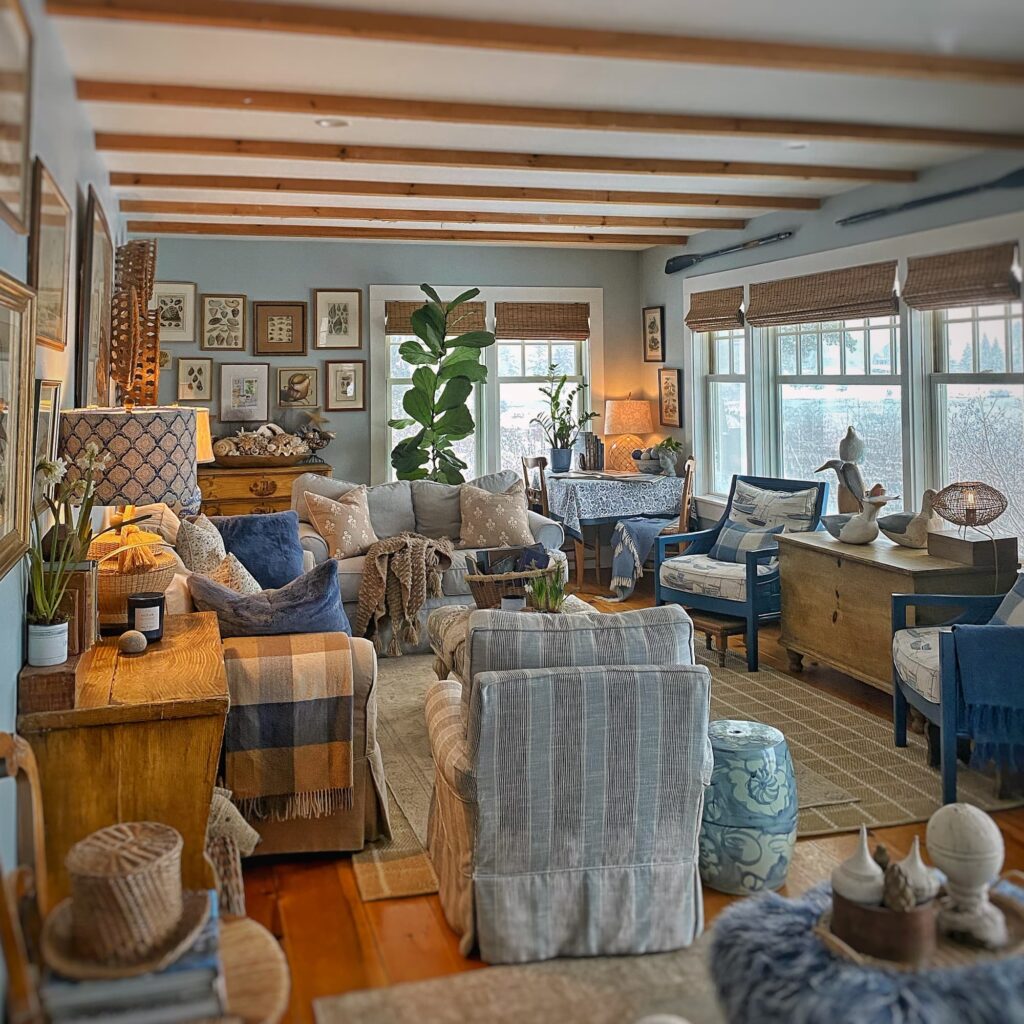 I am not a minimalist. Surprise!
I favor a home layered with a curated collection of items that together weave a story of person, place, and time.
Wall decor is an important thread in this story.
This week in the first of two blog posts on creative wall decor, we will chat about how art and gallery walls lend personality to a space. How they add layers of color, texture, and pattern and further the story of your home.
What to hang on the walls could be the first decision you make when decorating a space, serving as an inspiration for the colors and mood of a room.
Or it might be the finishing touches you add to a room to complement the furnishings.
Sometimes it is the cherry on the top — that statement piece that brings everything together.
Or maybe it is a quiet little treasure that creates a small moment in a larger space.
That is the great thing about art — it can be so many different things!
Choosing Art For Your Home
Whatever purpose a piece of art serves, the most important thing is that it speaks to you!
I have found art for my home in many different places — galleries, antiques stores, auctions, and online sources such as Etsy.
Once I even painted a piece that hangs above the living room fireplace every summer. (You can see it further below.) It is very basic! I am certainly no artist… But maybe you are!
You can pay big bucks for something significant or find a piece for a song at a thrift store. There are also so many great printable options that you can download for free these days. I have even seen some people frame a piece of wrapping paper!
Photos of your family are always a sweet personal touch.
Be sure to keep your mind open! Sometimes art isn't made out of paper or canvas!.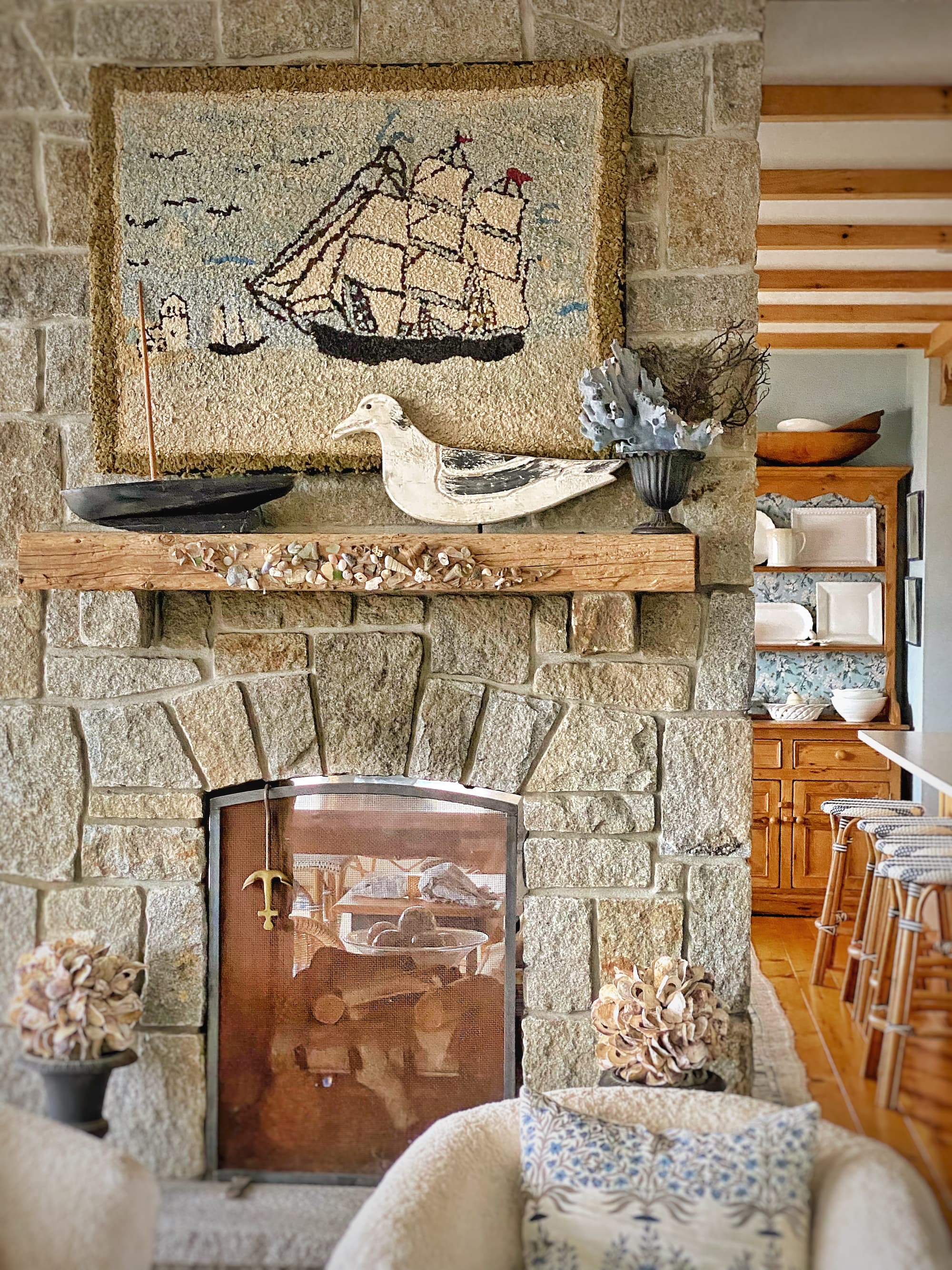 I am getting ready to bring out this sailing ship hooked rug as part of my early spring mantel display.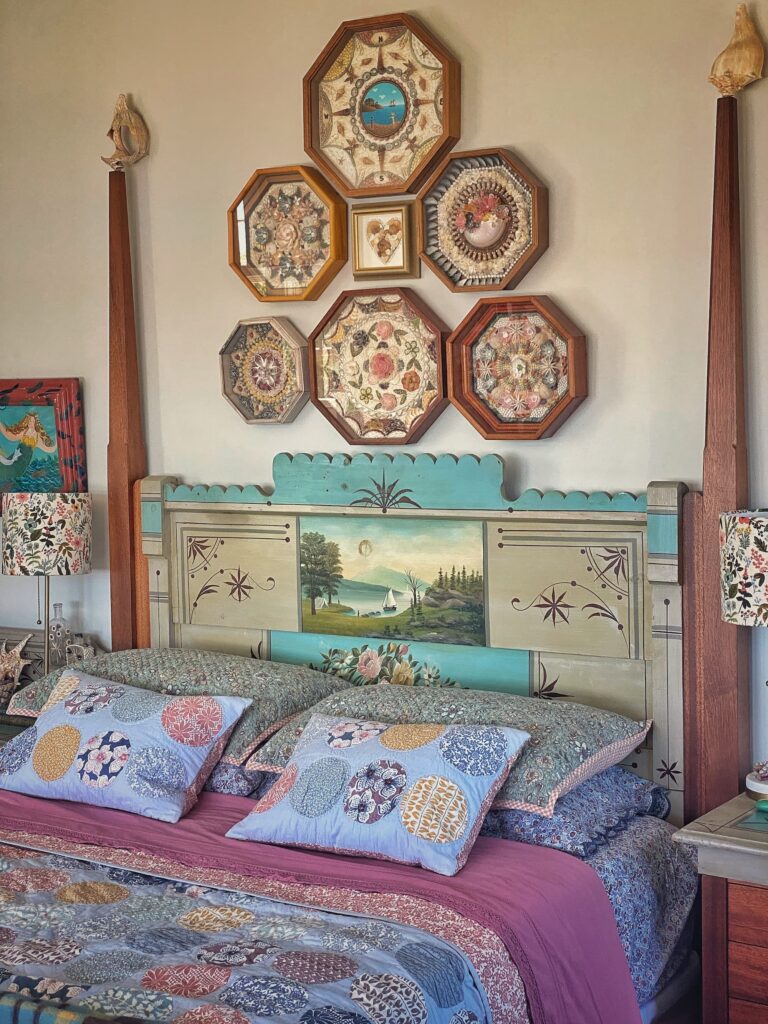 And my collection of sailors valentines — intricate designs made out of tiny shells — was the very first thing I hung on the walls here in our Maine house. (I promise one day I will do a blog post on just these treasures!)
It bears repeating: as with everything that you bring into your home, choose only artwork that resonates with you in some way!
Where To Hang Art
I am of the firm belief that art can and should be hung in every room in the house!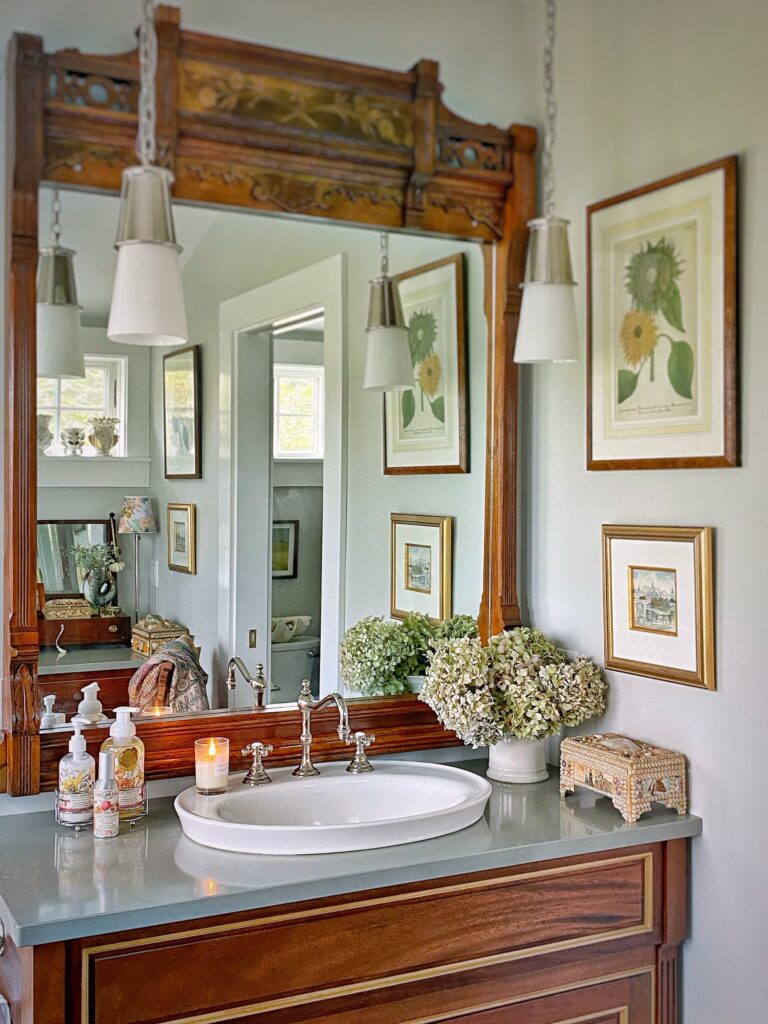 Yes, that includes the bathroom!
And definitely the kitchen! I have a pair of small prints hanging next to one of the cabinets. I have also seen people display artwork on their range hood. If you have open shelving in your kitchen, tuck a small piece in next to your dishes!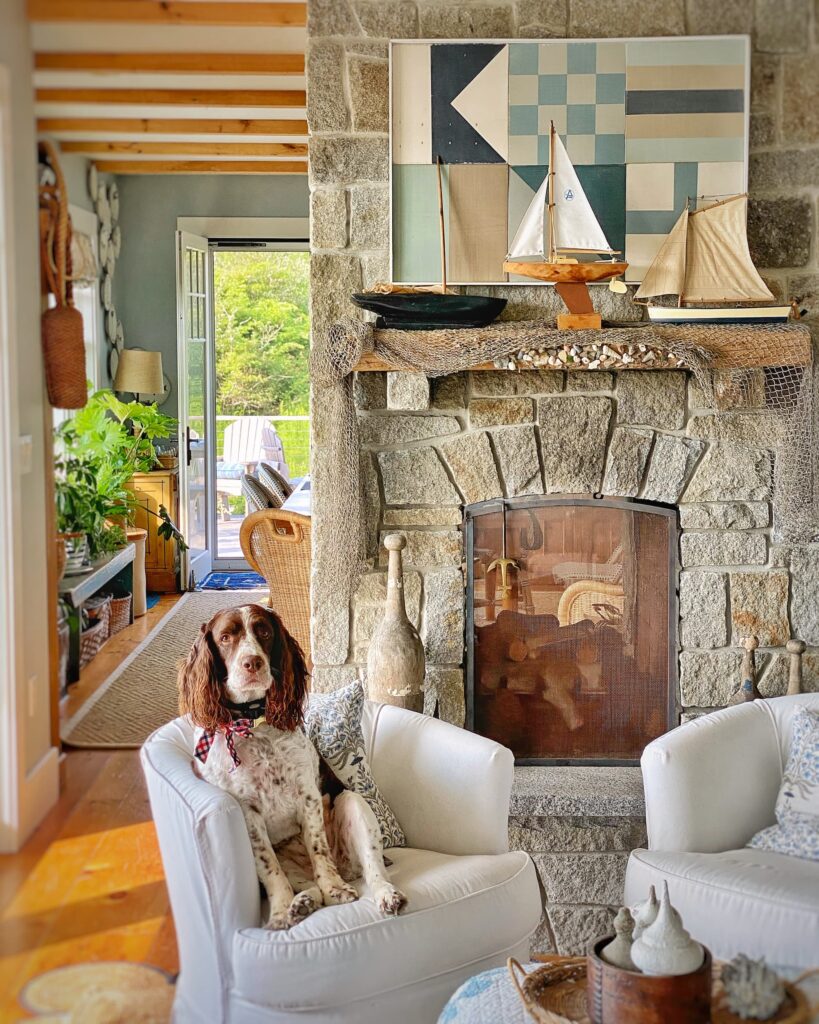 Artwork over a fireplace mantel is a classic option. I couldn't decide on a single piece of art to hang over the living room mantel, so I switch it out seasonally. (That is another great thing about art — unlike a furniture piece, it is easy to change when you feel like it!)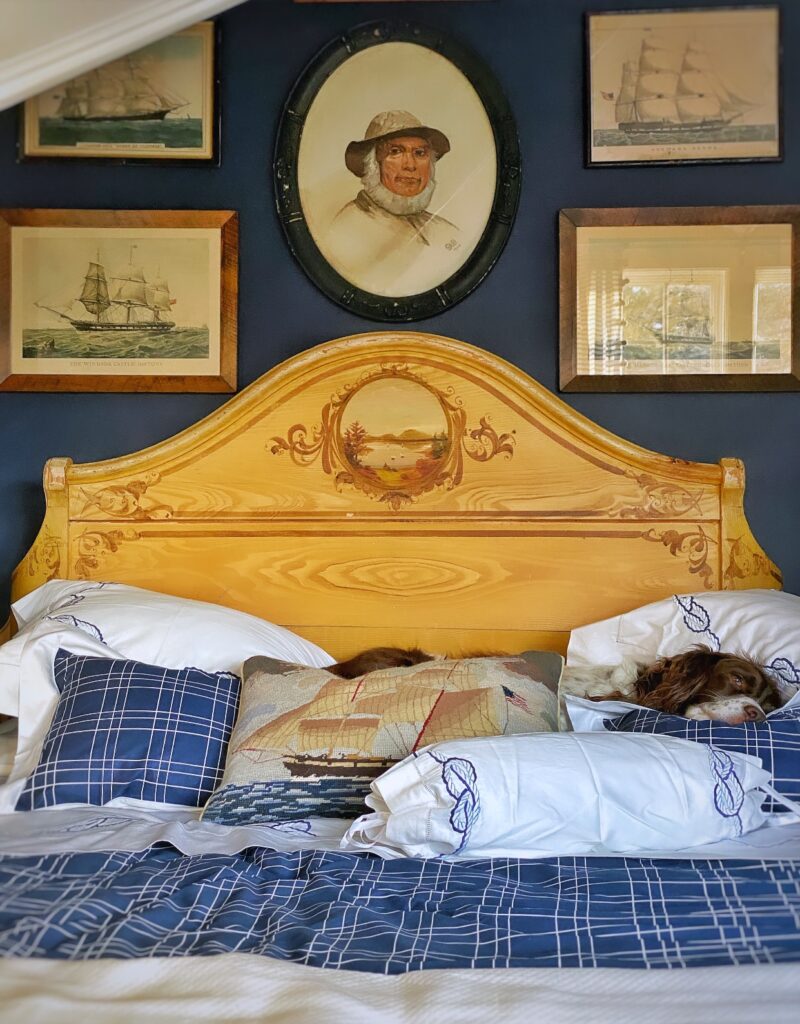 My son-in-law insists that nothing hang on the wall above the beds in their home. He worries that it could fall off and hit them on the head while they are sleeping.
I obviously don't share his concern, because I think the space over the bed is perfect for a gallery wall! I have them in each of the bedrooms. In combination with the headboard, it creates a wonderful focal point in the room!
How To Display Art
This brings us to the topic of how to display your art.
You can hang it on the wall singly or in a casual grouping.
A more formal grouping, or gallery wall, makes a great statement.
The easiest and most flexible way to display art is to simply lean it against the wall when placed on a bench, table, shelf, mantel, or even the floor if it is a large piece!
I have displayed art in my home in each of these ways. Let's take a look at some of them!
Gallery Walls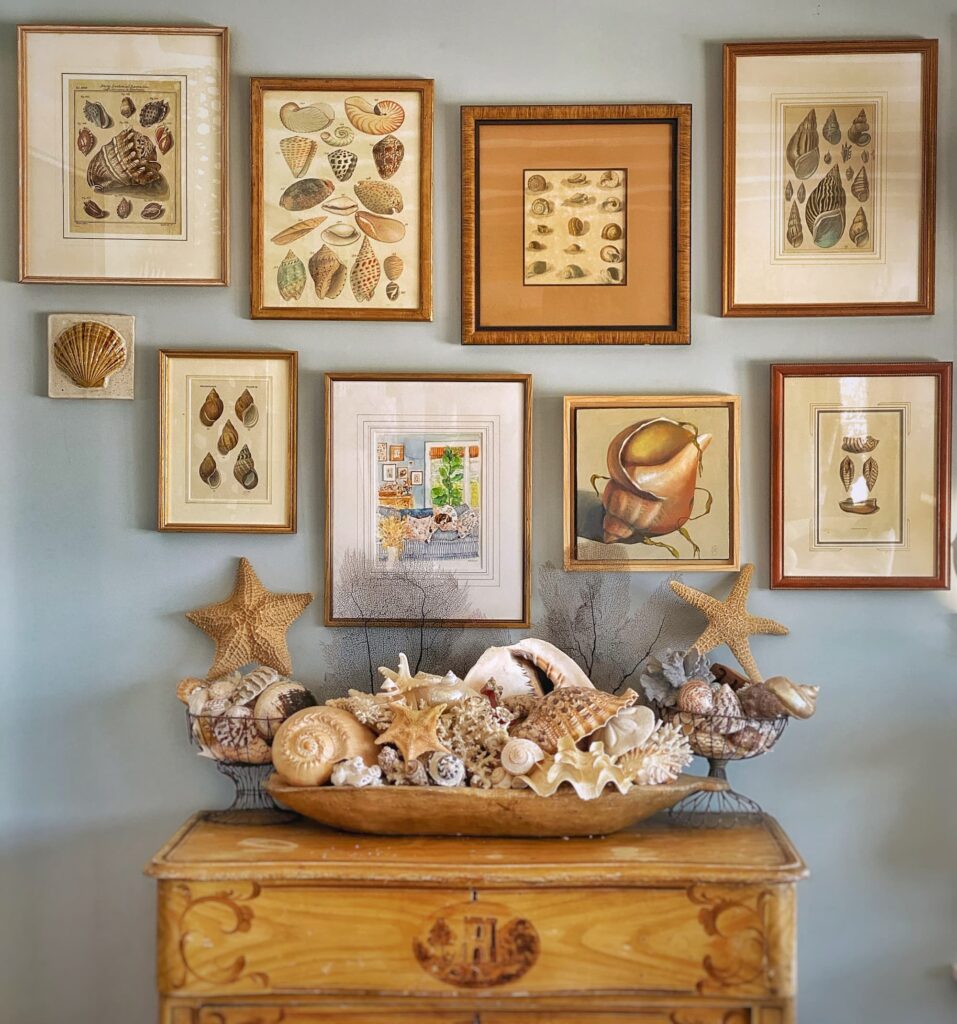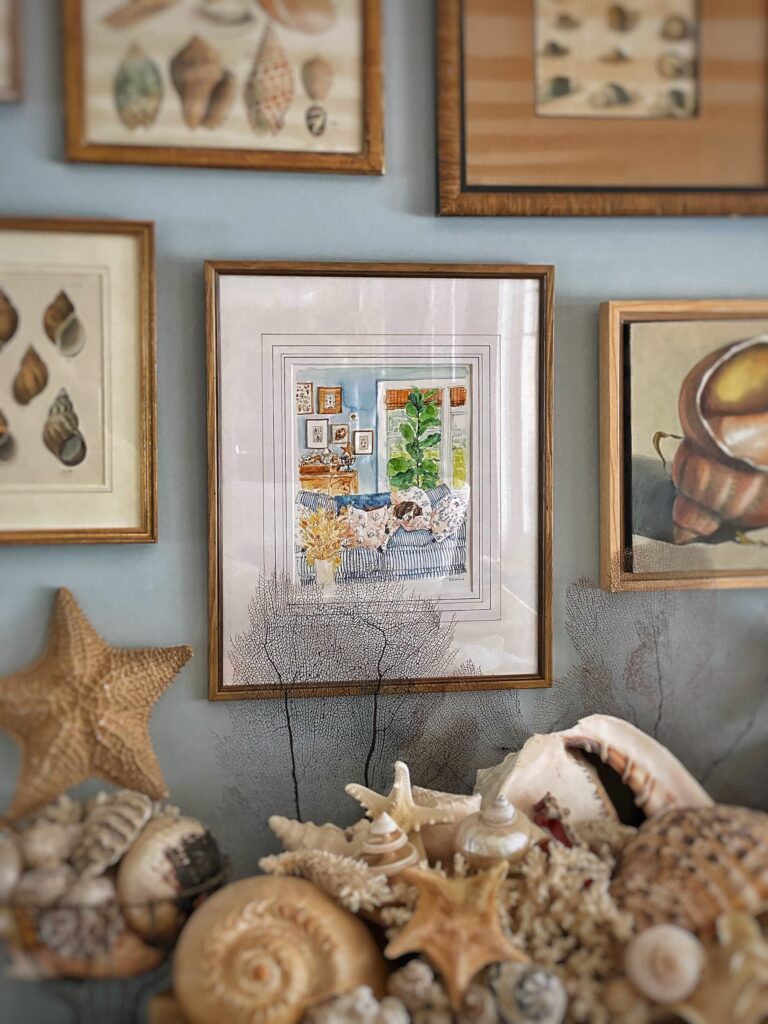 One of the most popular areas of my home on Instagram is the "shell corner" in the living room.
I mentioned earlier that the sailors valentines were the first thing I hung on the walls here in Maine. This gallery wall of shell artwork was the second. It has evolved a little over the years as I have added a couple pieces and rearranged things a bit. But mostly it has stayed pretty much the same.
Someone once commented on Instagram that she thought this gallery wall was "bad" and proceeded to instruct me on how to do it correctly — everything lined up and spaced evenly. This way, she said, I would end up with a more beautiful and professional arrangement.
I had to laugh! I know very well how to do a symmetrical arrangement. And I had purposely chosen to hang this one in a more fluid asymmetrical pattern.
I tend to prefer the casual look and energy of an asymmetrical arrangement.
It is always a little unexpected and more fun.
That is not to say that I don't have symmetrical arrangements in my home. I encourage you, though, to shake things up a bit and try a little asymmetry in your life. You might enjoy it!
Symmetrical Arrangement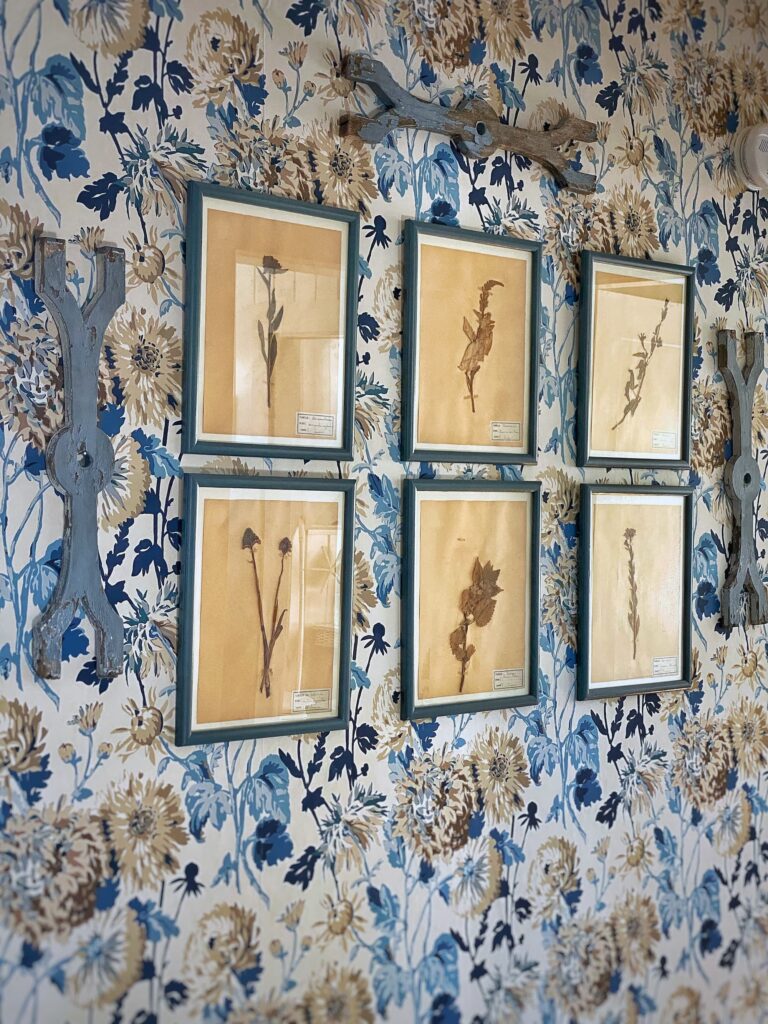 These vintage pressed botanicals are proof that I do know how to do a perfectly symmetrical gallery wall! 😉 I got them at a local antiques barn already framed, something I love about vintage art! All I did was paint the frames blue before hanging them on the wall. I like how they coordinate, but don't compete, with the floral design of the wallpaper.
The blue painted architectural details were a later addition to further define the grouping.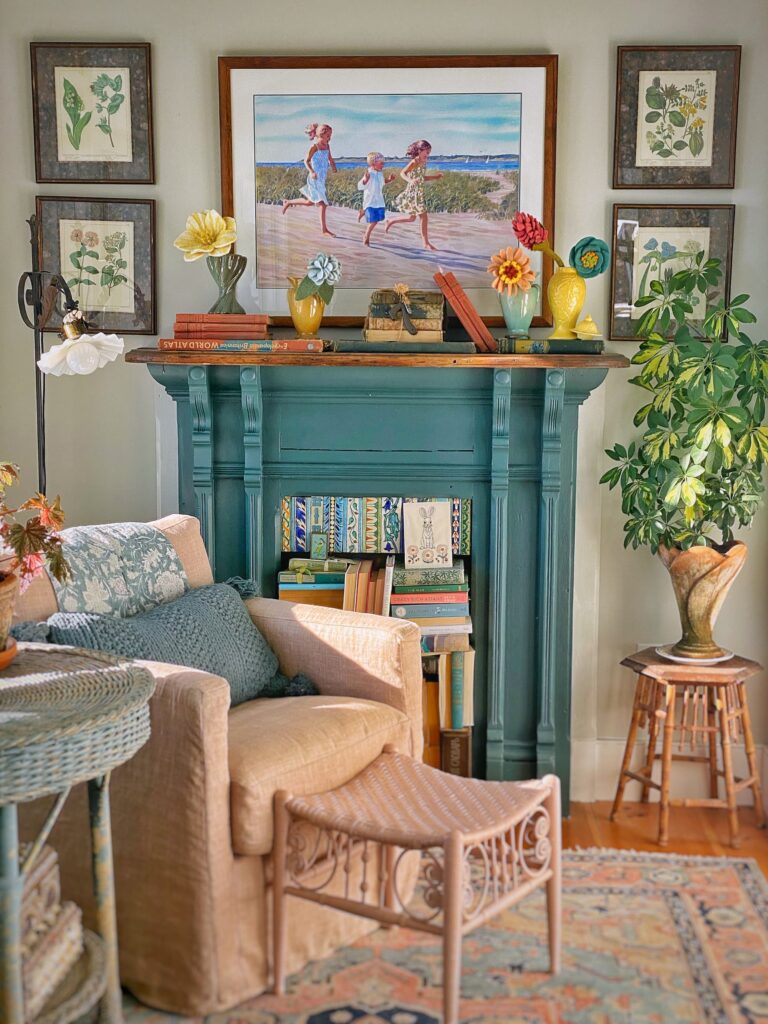 The watercolor painting of our kids when they were young hanging over the mantel in the primary bedroom is obviously a treasured piece.
I added two symmetrically arranged antique floral engravings on each side of the watercolor to frame it and fill out the wall.
Asymmetrical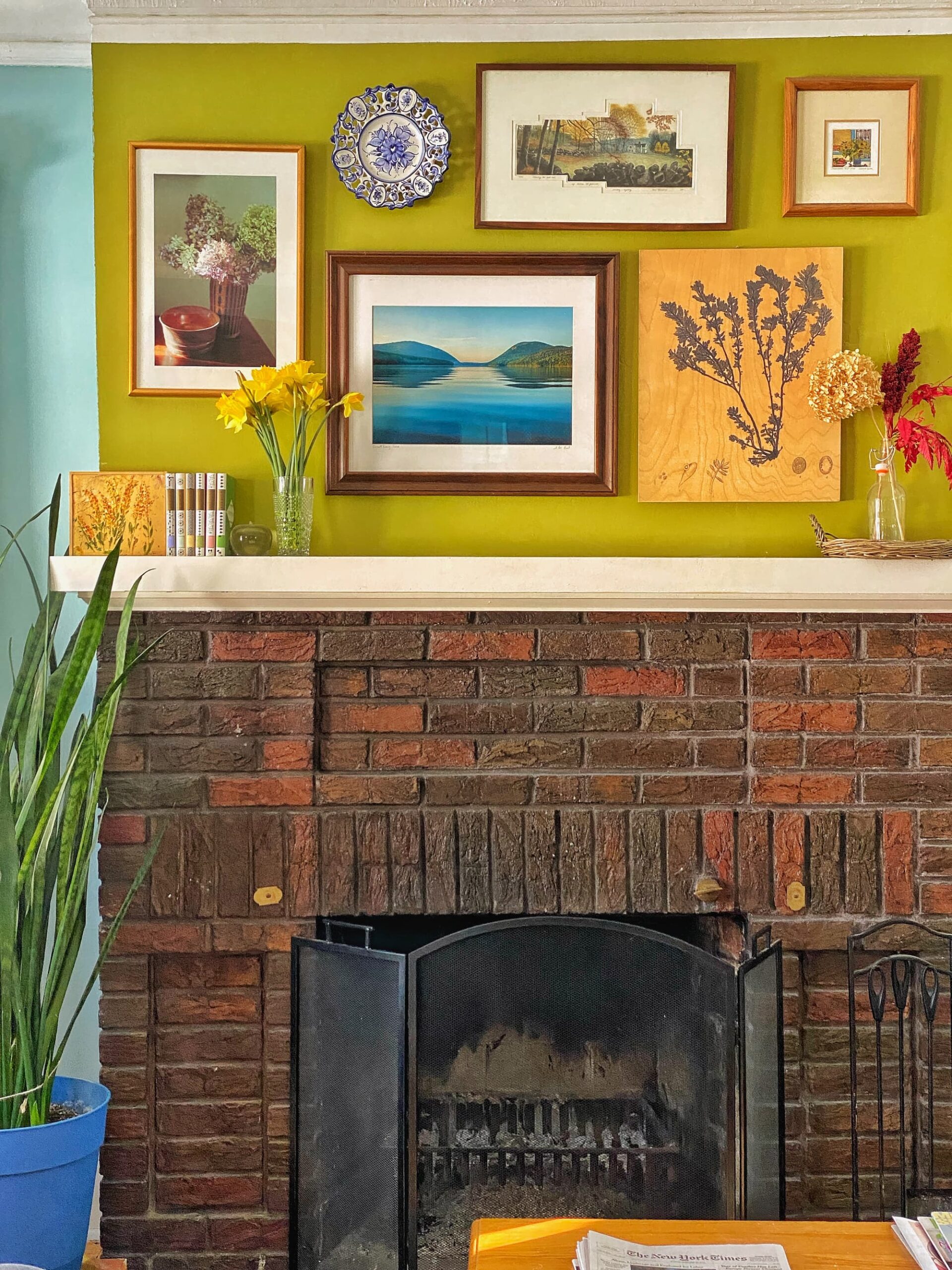 The apple doesn't fall far from the tree!
My daughter Leah created this asymmetrical arrangement over the fireplace in her home. I love how she combined a mix of sizes, shapes and medium. The two prints and the plate on top were my mother's. Leah and I were together when she bought the photograph of Acadia National Park here in Maine. And she took the photo of the hydrangeas herself for a college art class. The engraved botanical on wood and small painting on the mantel leaning against the wall add even more interest to the grouping.
Great job, Leah!
I will be talking more about asymmetrical arrangements next week in part two of this series all about decorating your wall with objects that are not technically "art"!
A Casual Grouping
The Living Room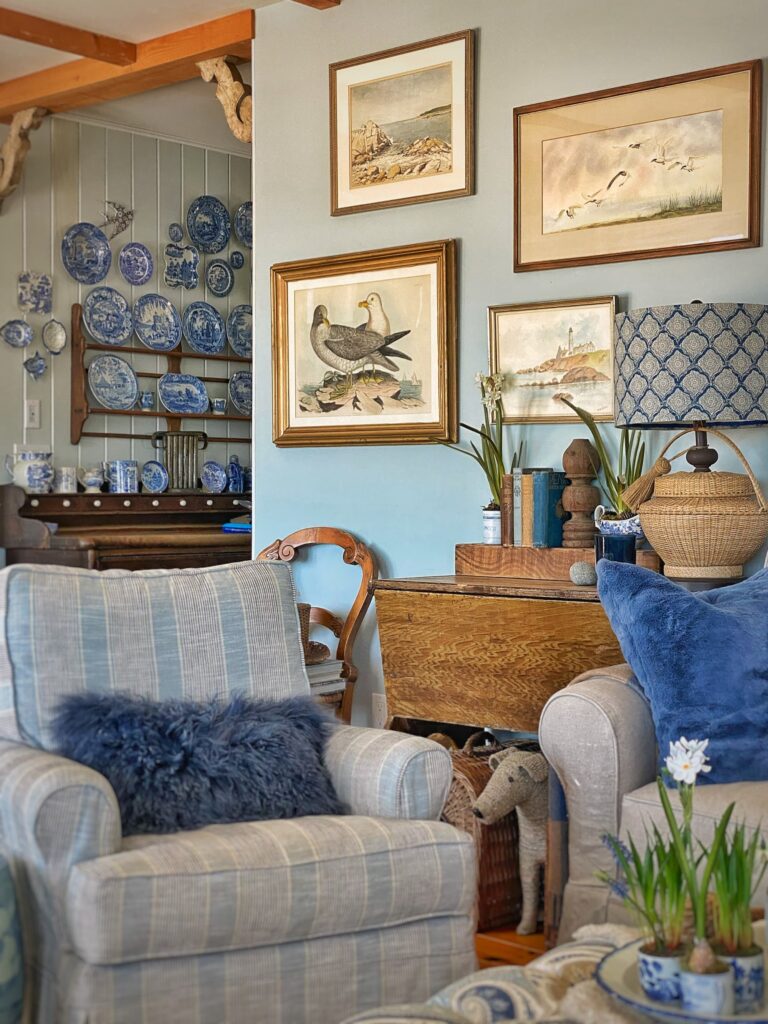 This casual grouping of antique and vintage art came together over time, as I found pieces that spoke to me.
The antique seagull lithograph came first. I had to sit almost through to the bitter end of a long auction, but I was determined to make it mine!
The coastal scene on the top left was an antiques store find.
I'd had my eye on the vintage seagull watercolor at a local store for a while, and thought it would look good with the other two pieces.
And then when I rearranged everything, I had a gap…. So I went out looking for something to fill it and came home with that sweet little primitive vintage lighthouse watercolor.
All pieces came framed and ready to hang! Don't worry if you don't like the frame — a little paint or some Rub 'n Buff can easily change its look!
The Den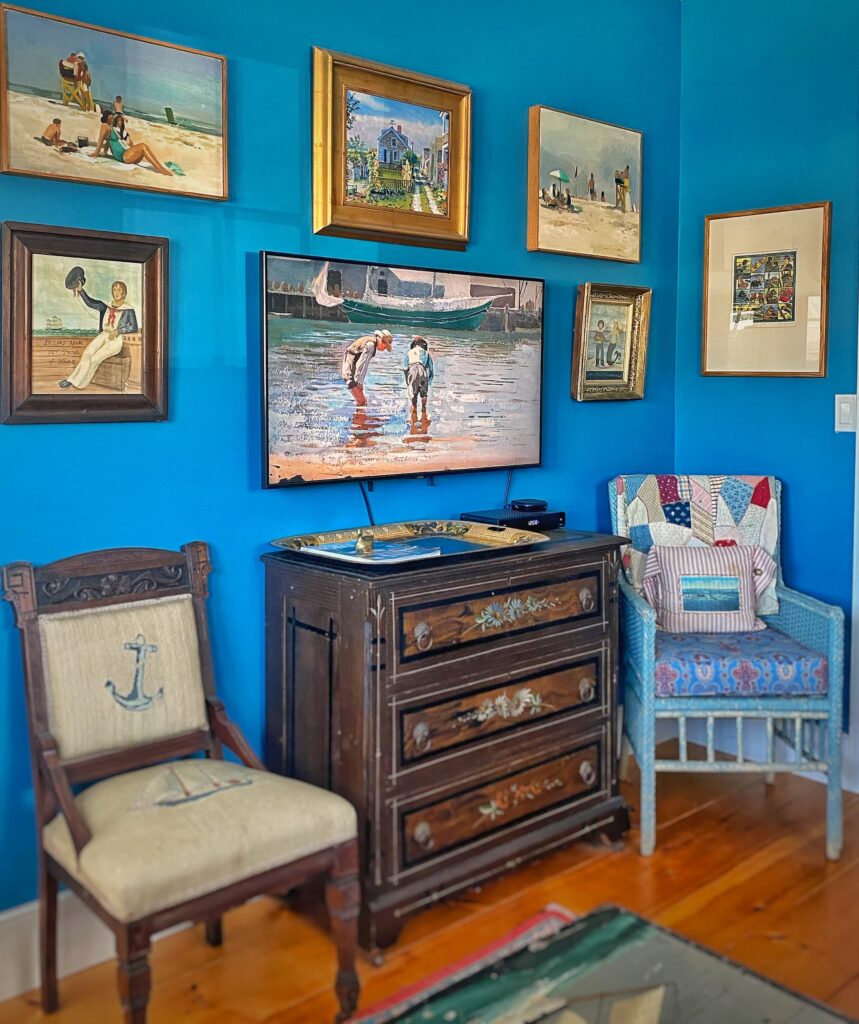 This grouping in the little den is a casual symmetrical arrangement around the tv.
These are all pieces we brought with us from Maryland, so it is comforting and familiar to have them here in Maine.
We do not have one of those fancy frame televisions. But you can easily get a similar look on your (much cheaper) smart tv!
Just search for "tv art" in YouTube. I narrowed my search to "coastal " and "beach" to get this image.
Go Big or Go Home
Sometimes just one piece of artwork is all you need.
And sometimes you just have to go big or go home.
Trial and Error
It took me a while to figure out what I wanted to hang on the long wall above the sofa in the living room. I tried two different mirrors. I thought it would be cool to see a reflection of the view out the windows on the wall.
But mirrors can be tricky. The reflection can be interesting, but it can also be something you don't want to highlight — like a ceiling or a big dark window at night. Or yourself. That might be useful in a bathroom, but I don't want to look at myself in the living room. Maybe that is just me…
Gradually a seagull theme started to develop in the living room when I added a collection of framed antique seagull engravings hung in a symmetrical arrangement on either side of the big waterside windows.
I had long been enamored with the gallery walls made up of reproduction prints of 17th century Swedish ornothologist Olof' Rudbeck's works from Museum Outlets. I fiddled with various arrangements using tiny slips of paper for a while. But they didn't feel right for this space.
The Solution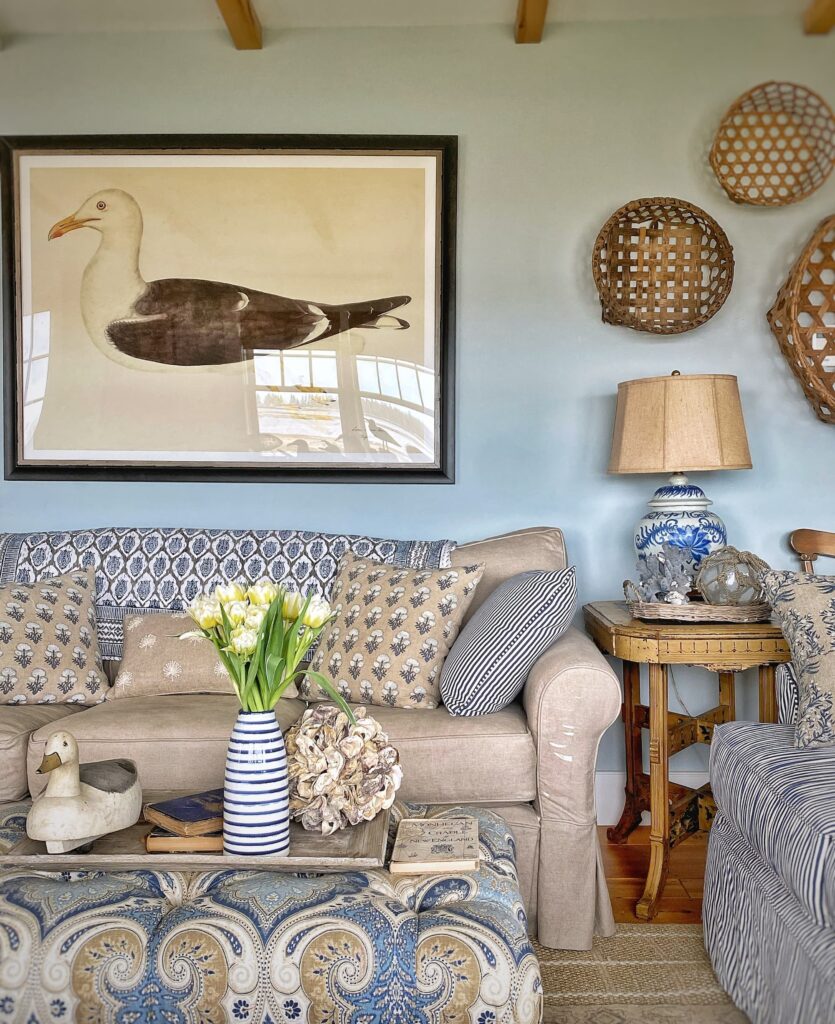 And that is when I decided that there were enough wall arrangements of small artwork in the room, and what I needed was a single large piece of art. And I mean really large!
This is how Godzilla, the lesser black-backed gull who ate my living room, came to reside with us. When I stand down by the water and look back at the house, I can see him.
He might even be visible from across the harbor.
While that might be a slight exaggeration, he does measure a hefty 57″X42″.
You can order this print in smaller sizes, framed or unframed. I had mine framed locally to coordinate with other artwork in the room.
Hanging Solo
Of course a piece of art does not need to be oversized to hang solo. It depends on the space you have and the look you are going for.
Sometimes a single small piece of art can speak loudly!
How To Hang Art Work
There are many ways to hang art.
Sometimes you can just eyeball it.
Other times, particularly when hanging a symmetrical arrangement, careful measurements are required.
It all depends on how "perfect" you want it to be and whether or not you mind extra nail holes in your walls.
Speaking of which — I am an old fashioned metal-picture-hanger gal. Sometimes if something is small and light, I will use just a nail.
I know there are people who swear by command strips. My general experience, though, is that they either don't stick well enough (leading to possible breakage) or they stick too well (leading to wall damage when you try to remove them).
Maybe it is operator error on my part, but I just don't trust them.
Does it come as a surprise to you that I usually fall into the "measure carefully perfectionist" group?
Here are some methods I use to hang things on the wall.
Careful measurements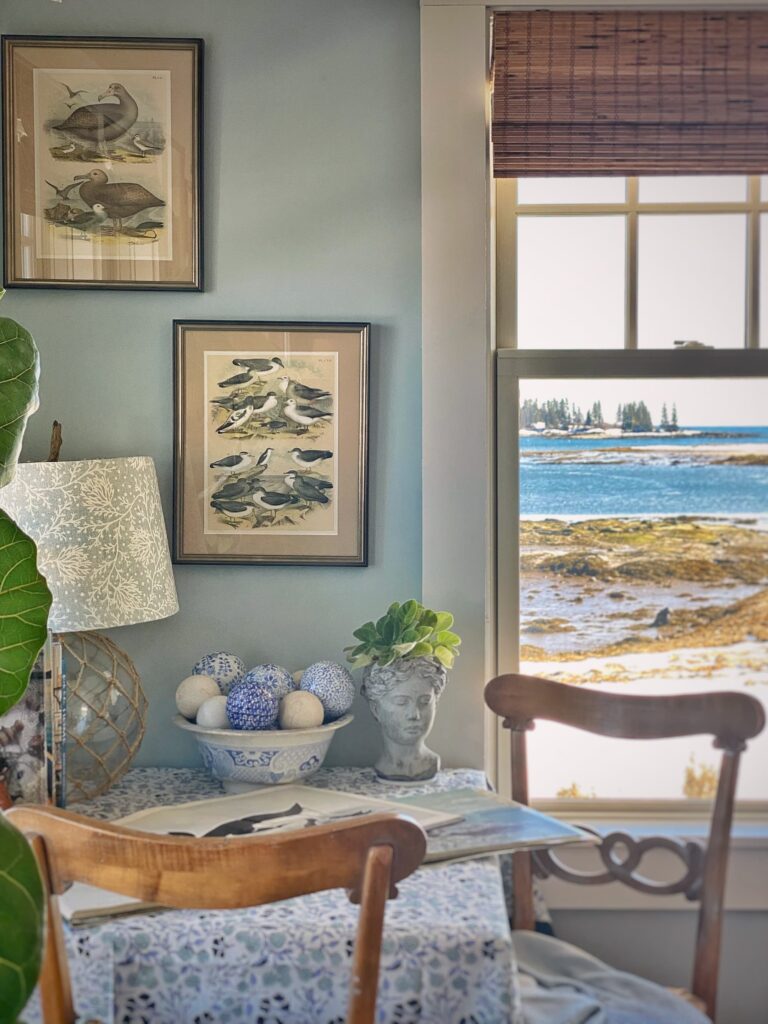 As I said, this is usually how I do it — particularly when it is a symmetrical arrangement or a single piece of art.
I generally like single pieces to hang in the center of the wall, and of course not too high or low. If it is not placed correctly, it will scream at me until I fix it.
And as my commentator friend pointed out to me — pieces in a symmetrical arrangement should be level and equidistant.
Using Templates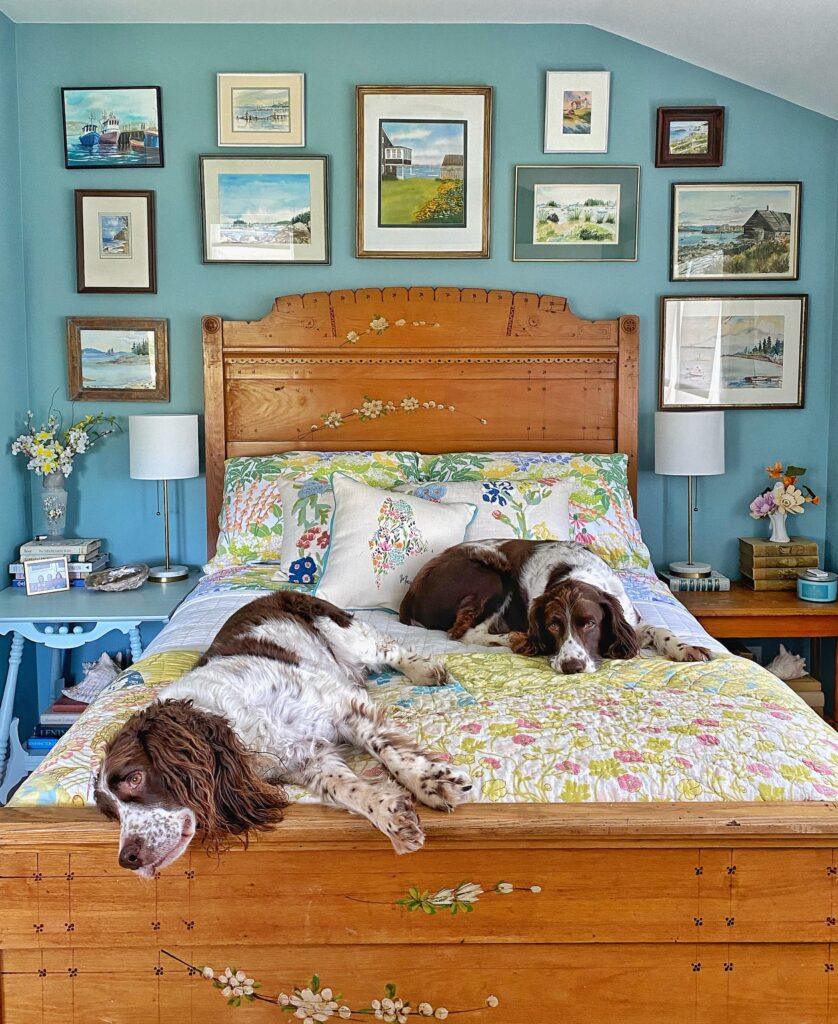 The largest gallery wall I have done is this one over the bed in the waterside guest room.
I spent several months combing antiques stores for these original watercolors of coastal scenes, purposely looking for pieces that were different sizes and in a variety of frames.
My intention was for the collection to look like it had been added to gradually over the years. Some of the artwork is older and some more contemporary. I didn't pay much more than $50 for any piece.
When it came to hanging, since the frames were all different sizes, I cut out templates of each piece from craft paper. I folded the templates in half so that I could clearly see the center and marked the top of the hanging wire on each.
Then I started playing with the layout, using painters tape to attach them to the wall.
When I was satisfied with the arrangement, I knew exactly where to place the picture hanger from the mark I had made on the template earlier. I could hammer the nail right through the paper!
It was still a tricky process, but I don't know how I would have done it without the templates.
I have also used the paper template method for smaller arrangements. It is an extra step, but it makes for good results. (And no ill-hung pictures screaming at me!)
Laying Out on a flat surface
For some arrangements, especially when the items are different sizes and shapes, it helps to lay the arrangement out on a flat surface. You can then replicate the layout on the wall.
I will talk more about this method next week in part two of this series!
Just Eyeball It
I know there are those who like to just eyeball it when they hang pictures, but that is not me.
Even when I am not carefully measuring out the distance between each piece, I still like hold each one up to "eyeball" its location and then mark it on the wall. I then measure where to place the hanger from that mark.
Hats off to you who can hang pictures without measuring at all!
Pulling It All Together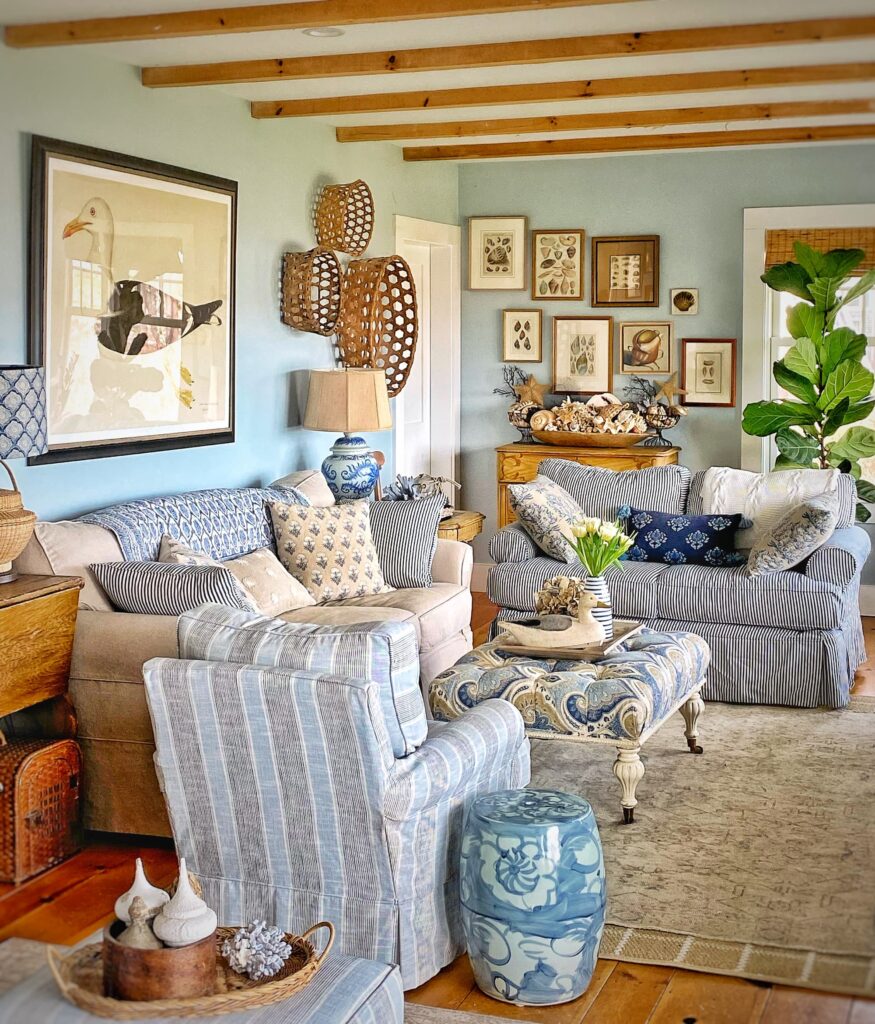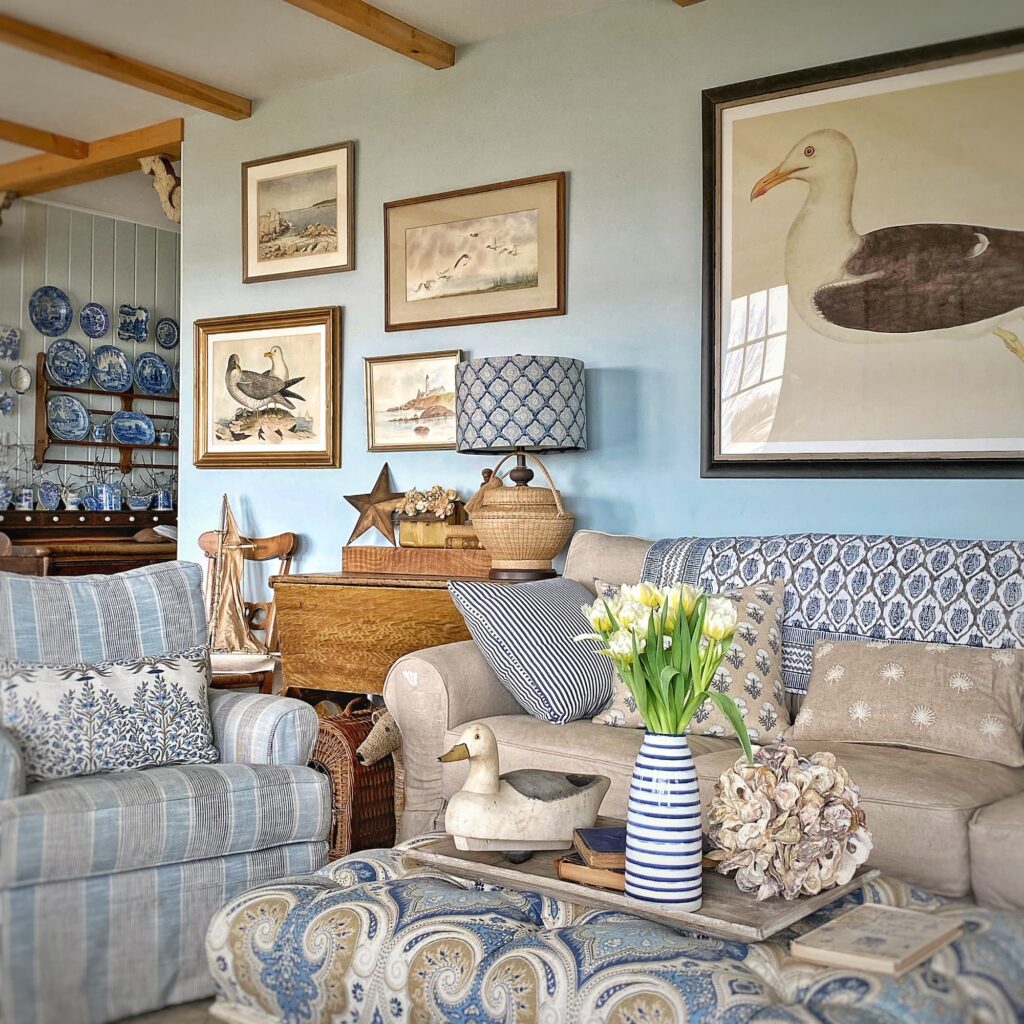 Original art, antique and vintage pieces, and a modern print.
Small, medium, and (extra) large sizes.
Hanging solo, in a casual group, or a formal gallery wall.
You can see how it all comes together in our living room to help tell the unique story of our home here on the coast of Maine.
There are even some added elements — the topic of next week's blog post: displaying non-art pieces on your walls!
This is when we will get really creative!
See you then!
Thanks for hanging out with me here today!