Chart your way to a coastal bathroom with painted wood floors, tongue-and-groove paneling, nautical chart wallpaper, and plenty of blue!
The Vision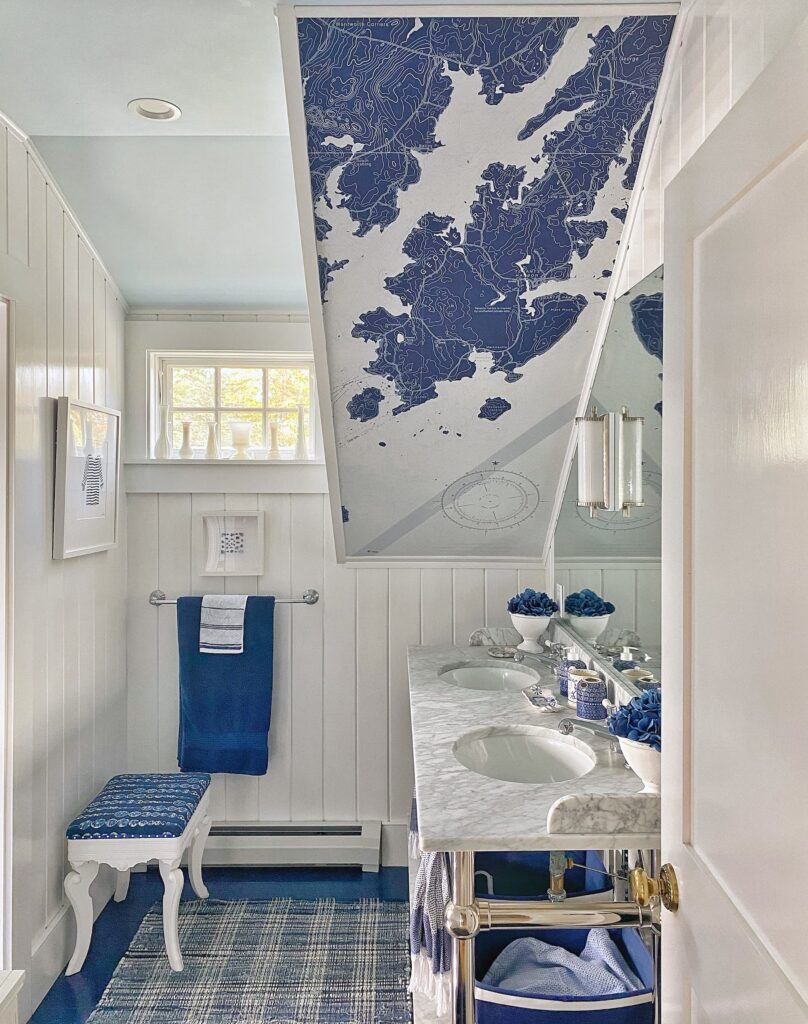 I had a vision for the upstairs hall bathroom from the very start. Picture an old Maine coastal home passed down through the family with a hall bathroom tucked under the eaves. Wood floors painted with glossy paint are warm on the feet when you get out of the tub. Tongue and groove paneling on the wall is durable and cozy. There is a big tub to accommodate a pile of grandchildren after a day at the beach. And an old-fashioned marble-topped vanity where they line up to brush their teeth at night. A chest of drawers holds towels, and spare toiletries are stored in baskets.
All this minus the old plumbing. And plus a fresh clean aesthetic!
Having trouble picturing all this? Let me show you what I am talking about!
Walls and Floors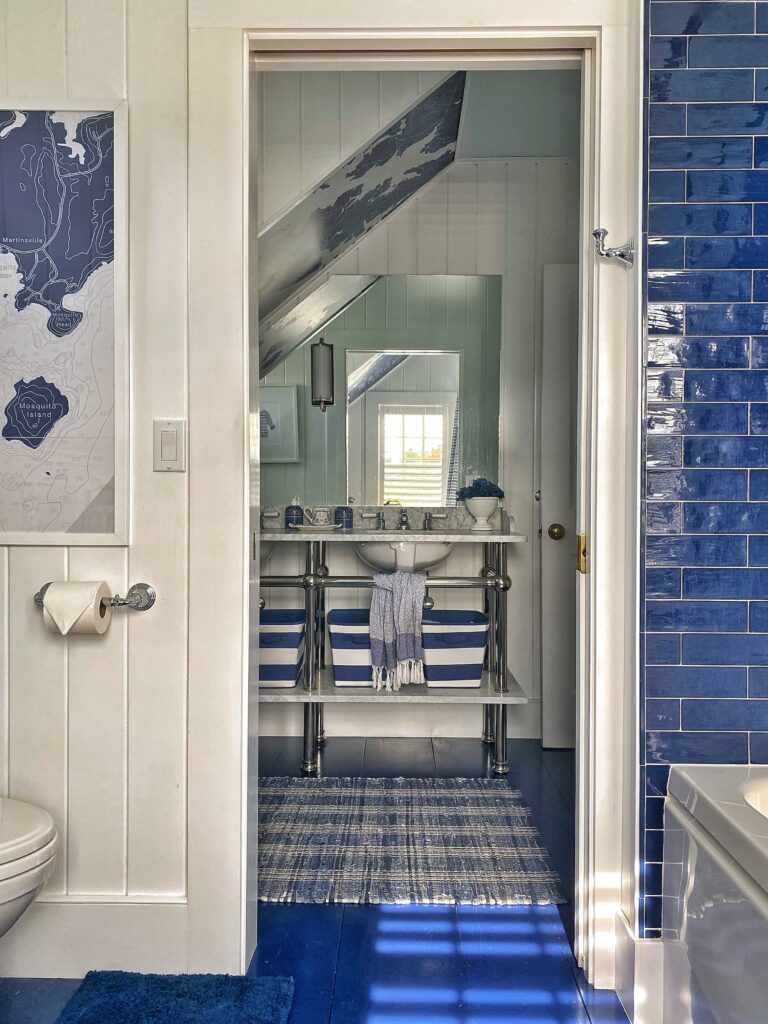 I knew I wanted the bathroom to be blue and white. Because I love blue. And, really, isn't blue the most coastal of all colors?
The tiles were the first thing I picked out — the perfect bright navy subway tile! I color-matched the floor paint color to the tile. I used a custom color, but Benjamin Moore Bold Blue is a very close match. The floor paint is high gloss oil. This makes it super durable. There are special paint bases made for floors, but I did not use one of them. This floor doesn't get a lot of traffic, but it has held up well over the past four years. And I would not mind if it started to get a little worn. Remember I am going for an old house feel, not perfection!
The walls are simple tongue and groove boards painted Benjamin Moore Chantilly Lace in a semi-gloss finish. This is the same color and finish as all the woodwork in the house. We did not put a special primer on the wood and that was a mistake. The sap in the wood started to bleed through and turn the white yellowish. We had to redo the walls with a special blocker and another coat of paint. So I would advise that you talk to someone at the paint store before you paint your paneled walls!
That Big Tub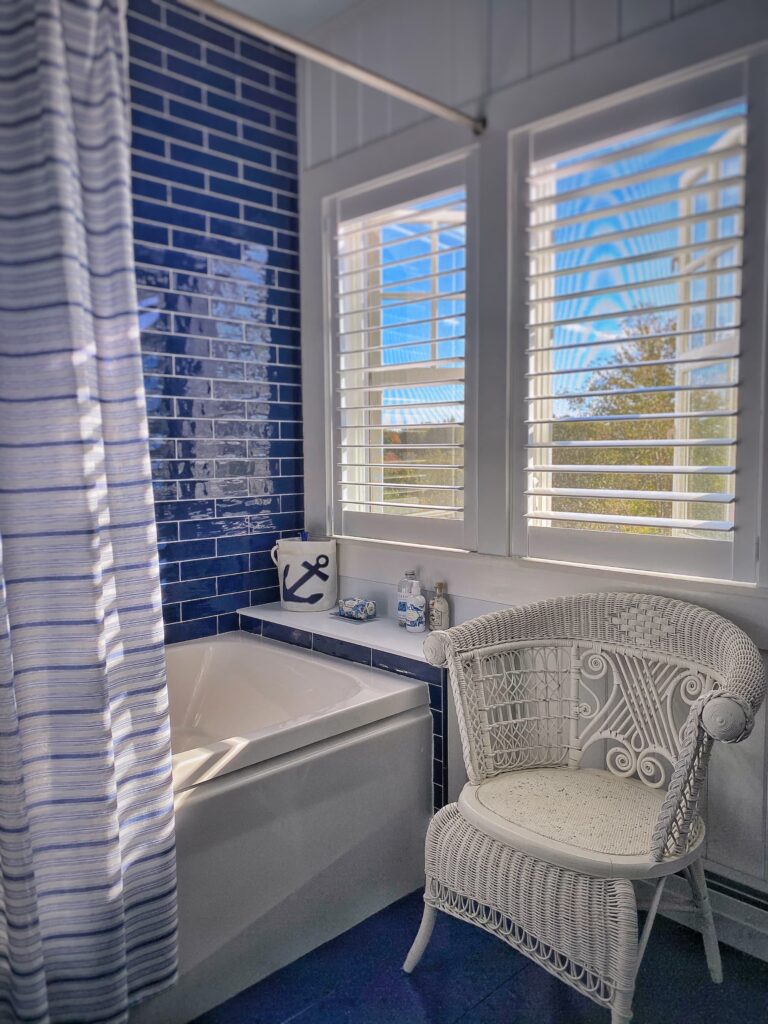 Our house is designed to be pretty much totally symmetrical from the outside. That dictated in particular the layout of the two upstairs bathrooms and meant I ended up needing a really big tub. This is a good thing! (Remember those grandchildren I am dreaming of?)
The not-so-good thing is that the tub is the one thing in the whole house that I did not pick out myself. I let the plumber do it. Yes, you heard me right — I let the plumber pick out my tub. My tub is not a shapely beauty like I see all over social media. It is just a plain old tub — big and deep, but nothing fancy. It suits my old-style bathroom just fine. And since it is a classic tub/shower combo, I am able to hide it behind a shower curtain. I still feel a little twinge of jealousy, though, when I see those beautiful stand-alone soaker tubs on Instagram….
All that said, my kids say it is their favorite shower in the world (more on the reason for that below….). And it does have that fabulous blue tile surround. So I won't complain (much)! I still advise against allowing your plumber to pick out any fixtures in your home.
The Vanity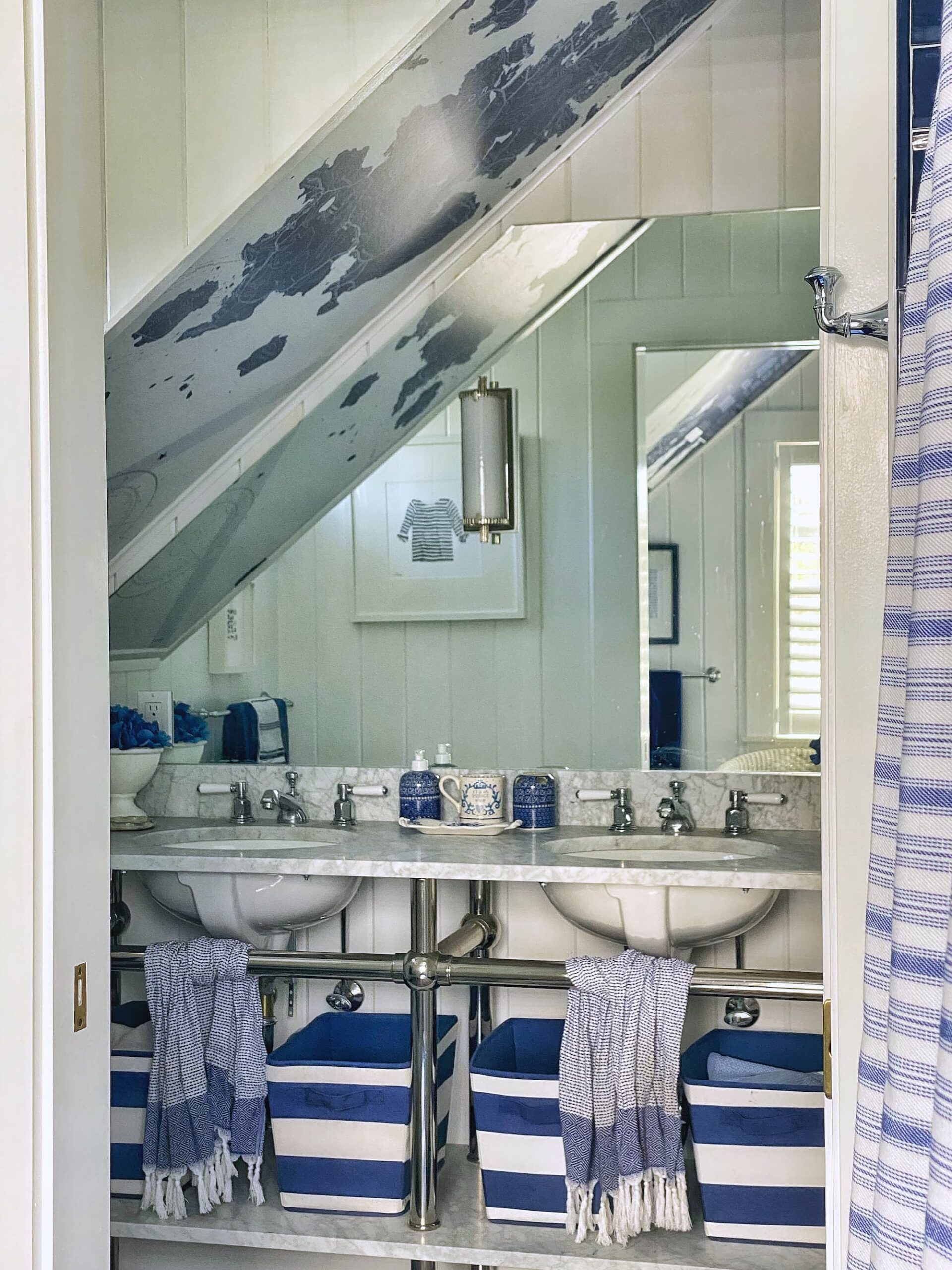 I am fortunate to be someone who makes quick decisions when it comes to home design. I usually have a vision and I know what I like. This apothecary style vanity from Pottery Barn has exactly that old-school vibe I was going for. Sadly, they no longer sell it. You can find similar consoles by searching on "apothecary vanity" online.
The marble top was broken on the first vanity that arrived. Fortunately the second one (which came 6 months later) was just fine. Good thing, because if it had also been broken, at that point in the process, I was so construction-weary I might have asked my plumber to pick one out for me. We all know how that would have ended!
Window Treatments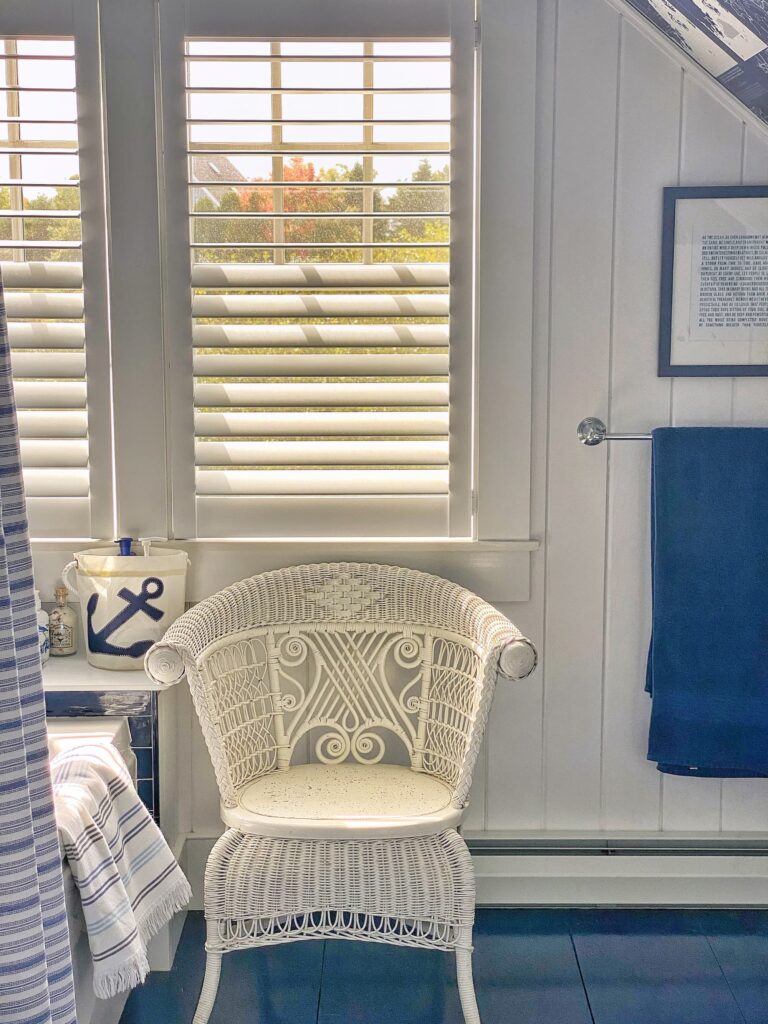 Due to the symmetrical layout of our house, we ended up with a big window on one end of the tub. The neighboring house is not close and is really only occupied in the summer. I don't want my guests to worry about privacy when showering, though. And even though the window is quite a distance from the shower head, I needed a treatment that could stand up to some water, should there be a mishap. (It has happened….) As a temporary fix, I used a combination of privacy window film and cafe curtains.
This spring, though, my guy Brad from Budget Blinds of Augusta installed white shutters. They look and feel like white-painted wood, but they are made of a water-safe composite material. I particularly like how you can adjust the top and bottom halves independently to attain the level of privacy you want. They look sleek and clean, but still have a casual cottage feel.
The window in the tub is the reason my kids love this shower so much. In the summer with the windows open and the sun shining in, it is like an outdoor shower! Now they can enjoy it without worrying about privacy!
A Very Special Wallpaper Treatment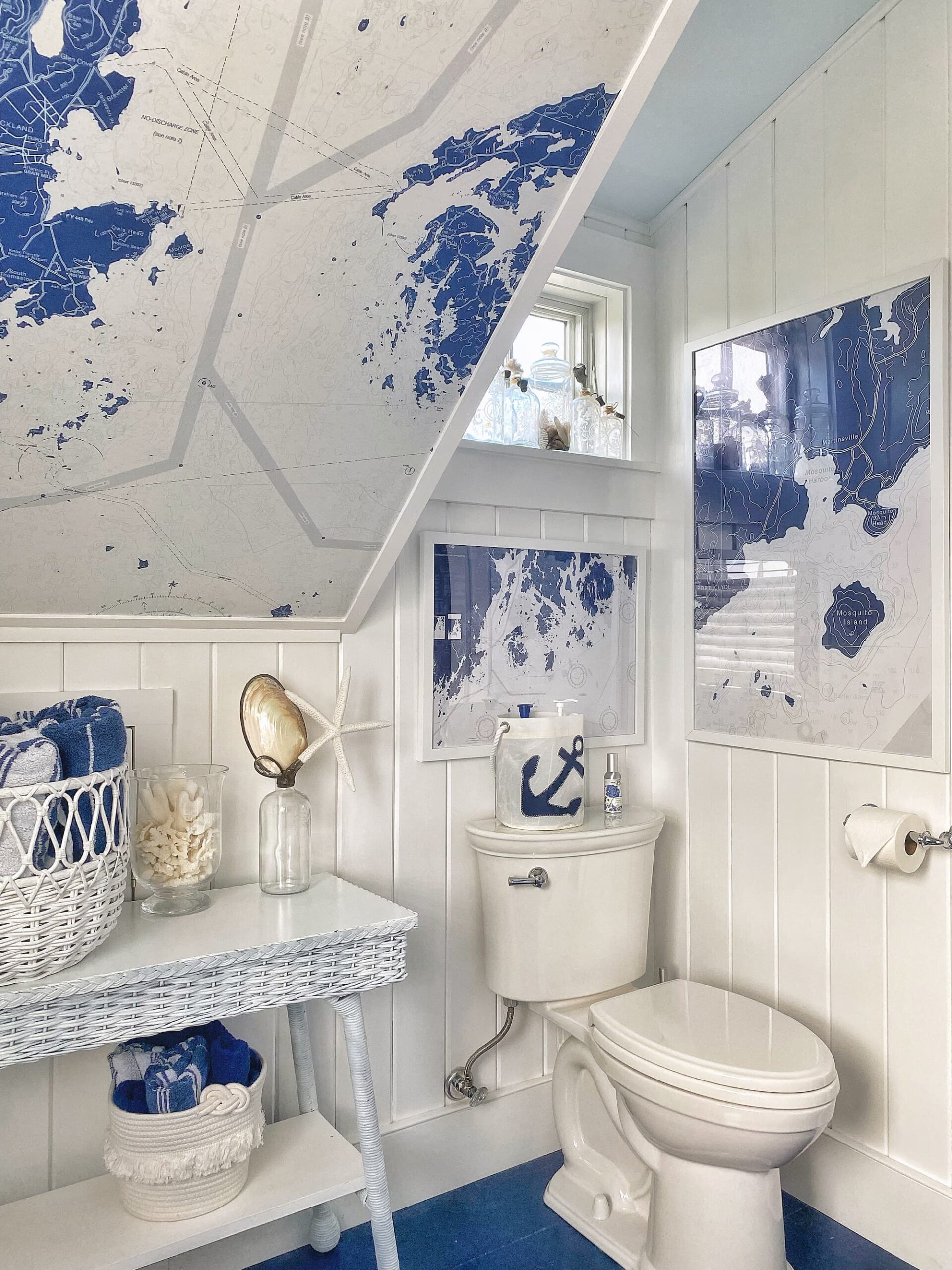 This bathroom with, its blue tiles and floor, already had great visual impact. This summer, though, I added wallpaper that took it to a whole new level!
I first saw the paper from Nautical Chart Wallpaper on Instagram last year and immediately knew I needed it somewhere in my home! Launched in 2003, this small business creates custom wallpapers from authentic nautical charts and vintage style maps. Check out their website or their Instagram account to see their paper in some amazing projects!
Buffy worked closely with me to help choose the colors, map sections, and scale. I had originally thought I would do the ceiling in the bathroom, but this ended up seeming too complicated. Instead, Buffy suggested that I paper the two slanted sections of the ceiling, and it looks amazing!
The charts we chose show the general Penobscot Bay area, our peninsula, and the little harbor out my windows which you all see each day on Instagram! The paper is totally customized. The blue color for the land matches the blue in the tiles and floor. There is even a marker for the location of our house!
The Finishing Touches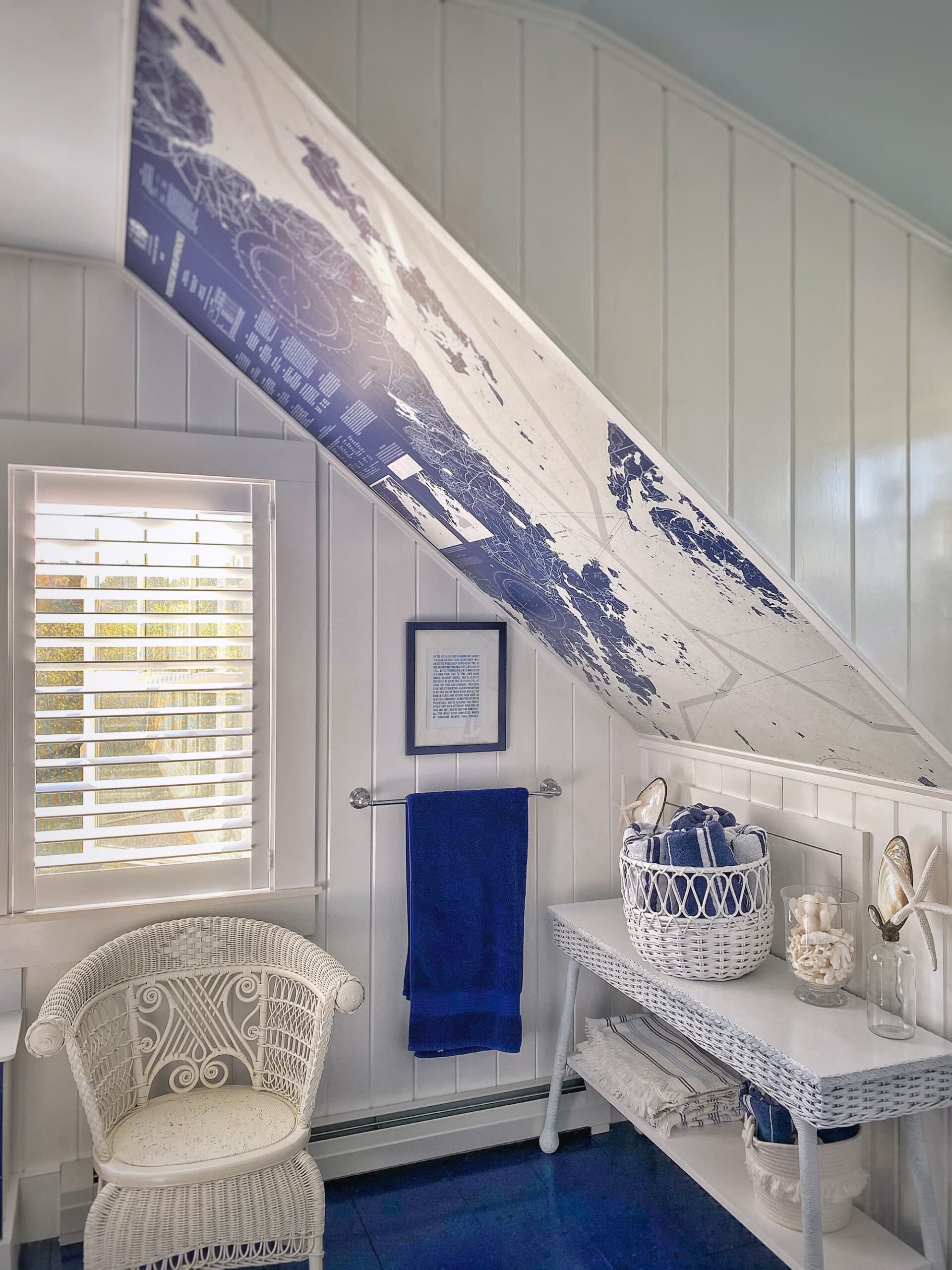 I love to decorate a bathroom like any other room in the house. I chose the striped-shirt and polka-dot-bathing-suit artwork from Sara Fitz before the house was even completed! (That is how strong the vision for this room was in my mind!)
The chest of drawers, which holds towels, is from Wayfair. One day I would love to get an antique cottage piece to go there!
I got the stool (an old piano bench) at an auction. It was a real ugly duckling, but I knew that with some paint and new fabric, it could be a little cutie.
The wicker chair is a fantastic piece from a local antiques store. The curlicues might be a bit over-the-top, but I love how they contrast with all the straight lines in the rest of the space.
Shells, baskets, a striped shower curtain and towels add even more coastal charm to the room.
I hope you enjoyed this peek into how I went about designing this classic-but-fresh coastal bathroom in our new-build home!
So, what do you think? Are you ready to chart your path across the high seas of design to your very own coastal-style bath?!
For more on adding coastal charm to your home, check out my blog post 6 Ways to Add Coastal Charm to Your Guest Room!
Until next time!